CONYERS — Isaiah Bond's big day highlighted the Buford track and field team's performance at this past weekend's Heritage Early Bird Invitational.
Bond won the 100-meter dash in 10.73 seconds, the current fastest time in the country, and also was second in the 200 in 21.57. He joined Tobi Olawole, Victor Payne and Malik Williams on a first-place 1,600 relay that broke its own school record with a time of 3:21.86.
The Wolves, second in the boys team standings, also won the 400 relay in 42.16 and got individual wins from Victor Paynes (110 hurdles, 16.08 and second in 300 hurdles, 41.42) and Mack Green (discus, 125 feet, 9 inches). Venn was fourth in the 100 in 10.98 and Olawole was third in the 200 at 21.69.
The Buford girls won the meet with a boost from a first-place 3,200 relay that broke the school record with a time of 10:37.76 — that foursome featured Callie Snell, Cameron Perry, Caroline Snell and McKenzie Smith. The girls also won the 1,600 relay in 4:03.68.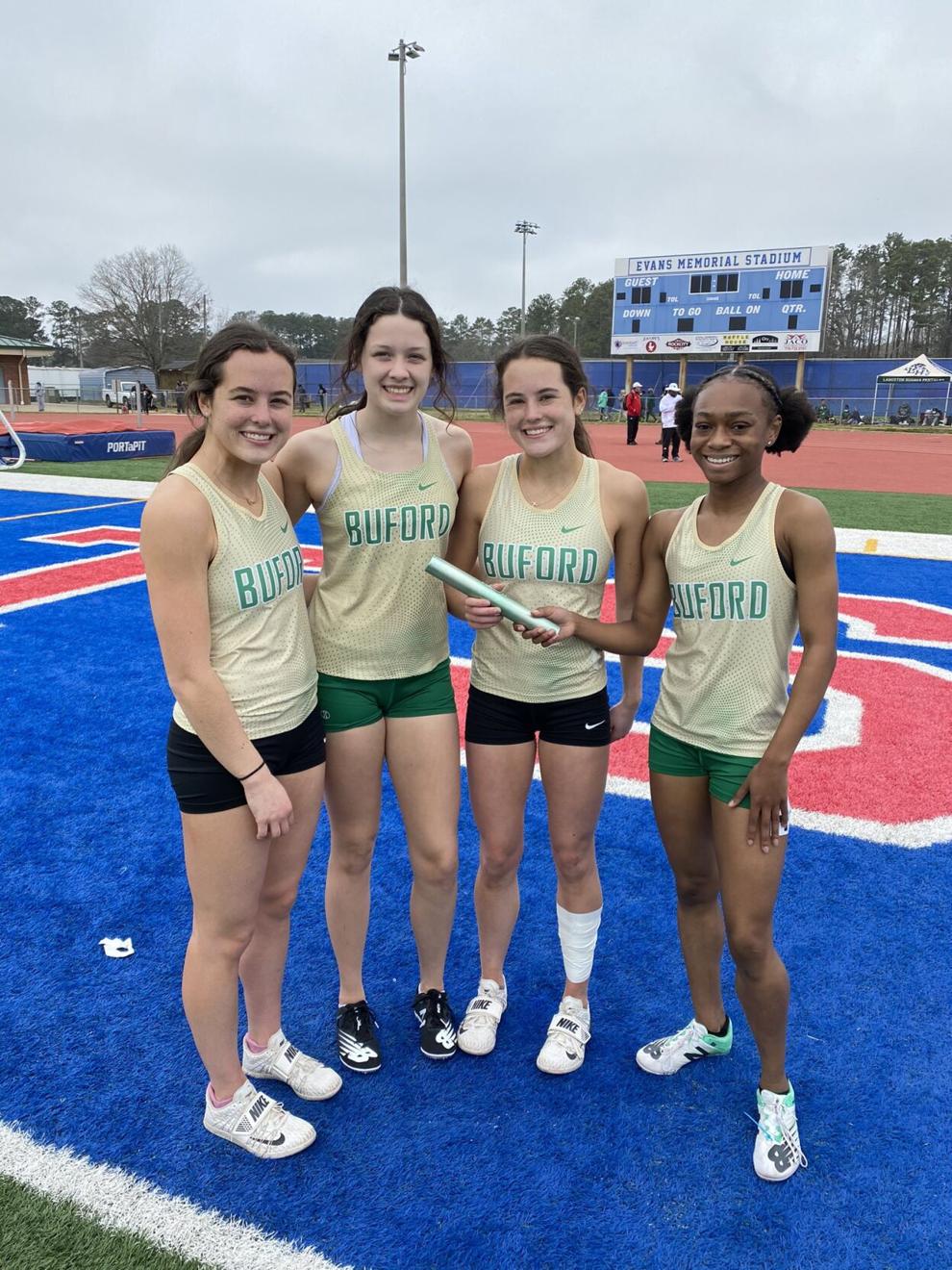 Smith won the 800 (2:28.92) and teammate Sydney Harris won the 200 (24.91). In field events, Mary Metz won the high jump (4-6) and Callie Nell (9-6) and Caroline Snell (8-6) finished 1-2 in the pole vault.
Archer sweeps at its meet
LAWRENCEVILLE — Archer's boys and girls teams each took first place over the weekend at the Big Mouth Signs/Shuma Sports Archer Invitational.
The Tigers got a win in the girls 100 from Kitana Burgard in 12.18, while the boys won the 400 relay (43.00). Archer's Jonathan Dennard won the long jump at 20-9 and was second in the triple jump (43-1).
Dacula thrower Adam Watkins won the discus (154-7) and shot put (59-6), while other Gwinnett event winners were Mountain View's Methias Carter (400, 49.23), Shiloh's George Benjamin (110 hurdles, 15.15) and Patrez Thomas (300 hurdles, 40.14) and Peachtree Ridge's Kyle Fisher (triple jump, 44-0 1/2). Mountain View's boys team won the 1,600 relay (3:27.68) and the 3,200 relay (8:28.60).
Peachtree Ridge's Sydney Augmon won the girls 800 in 2:21.75, and Greater Atlanta Christian's girls won the 400 relay (46.57) and the 1,600 relay (4:01.01).
Parkview boys win at Hillgrove
POWDER SPRINGS — Parkview's boys dominated in winning the Hillgrove Invitational last weekend with 173 points to runner-up Pope's 83. The Panther girls finished fifth.
The boys team got a win in the 400 (50.08) from Eric Pullum, and wins from Jared Brown in the high jump (6-4) and Cody Brown in discus (152-1). Bryce Fleetwood also cleared 6-4 in the high jump for second, and Brown was third in shot (45-2). Other top Parkview boys performers included Leon Christian (second, 200, 22.20 and second, triple jump, 40-2), Martin Robles (second, 800, 2:04.44) and Andrew Todd (second, 3,200, 9:40.04).
The Panthers won the boys 400 relay (42.84) and 1,600 relay (3:32.44).
Carson Moore led the Parkview girls with two wins (100 hurdles, 16.15 and triple jump, 34-11). She also took second in the long jump (16-6 1/4).