Former Duluth football player James Doby died Wednesday, his high school football coaches confirmed. He was 17.
Doby, a 2020 Duluth grad, played both offensive and defensive line during his career. The 5-foot-11, 330-pounder also competed as a thrower in track and field for the Wildcats.
His personality was even bigger than his size, those close to him said.
"Doby was always willing to stop and have a conversation about football or his favorite courses at Maxwell," Duluth athletic and activities director Tessa Finke said. "He loved his time with the football team. He was such a gentle giant. Loved his spirit and his big smile. He will be missed dearly by the Wildcat family."
Duluth head coach Cam Jones said Doby was one of his team's strongest players with a 400-pound-plus bench press.
"From the day I was hired, (Doby) didn't miss a day," Jones said. "He didn't miss a single workout. When I went to my first Duluth GFL (Gwinnett Football League) game, he's on the grill, he's riding around on the Gator, he's cleaning up. I joked that he was the mayor of Shorty Howell (Park). You couldn't go to Shorty Howell without knowing him. He was always helping out with other teams, other practices. That's just the kind of kid he was."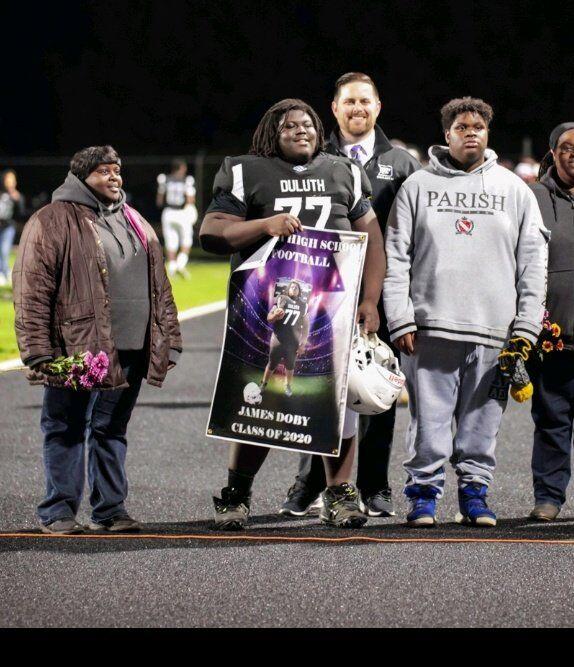 Doby was studying to be a mechanic in Nashville, Tenn., after taking auto classes at Maxwell during high school. His family — his brother Nick is a rising freshman player at Duluth — was scheduled to visit Nashville last weekend, but canceled plans after Doby said he was dealing with a stomach virus.
"James was one of those kids who never missed any kind of team function, or team workouts, and he was usually one of the first people there every day," Duluth assistant coach Chris Fowler said. "That's what makes the whole thing more tragic (is the kind of person he was). He was the one who embodied that Duluth spirit that all coaches want their kids to have. He worked his tail off in the weight room and always performed on the field.
"He always did what he was asked with a yes-sir attitude. … He was just a great soul, a great kid. I was really looking forward to what he was going to do with his life."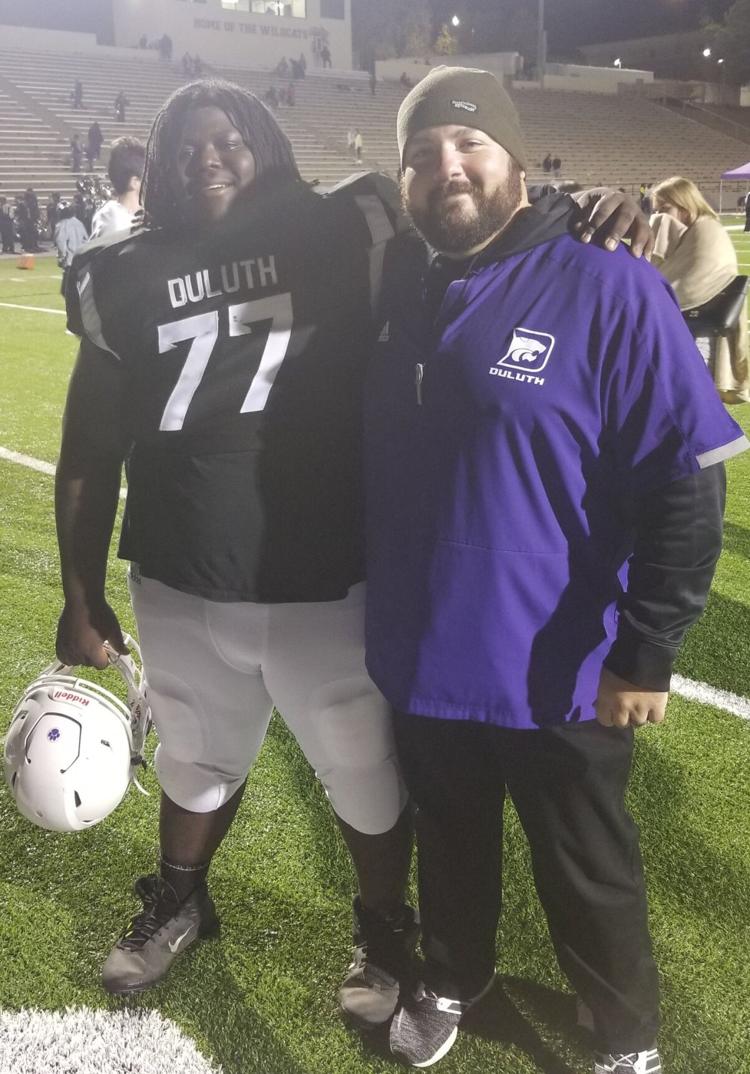 Doby progressed greatly on and off the field throughout his time at Duluth, eventually becoming a regular contributor and part-time starter during his senior season.
Fowler coached Doby all four seasons.
"I just felt he gained a lot of confidence from the time he came in as freshman to the time he left as a senior," Fowler said. "He was that guy around school that everyone knew. Everyone knew who James Doby was whether it was through football or just through his personality. He was one of those kids that he touched everybody around him."
A GoFundMe account has been set up in honor of Doby, and his family wants it to be used for the Duluth football team. Donations can be made at this LINK.
My ❤ hurts tonight... the 🌎 lost a great soul today. You were one of the best persons I've ever had the privilege of knowing and I just cant believe you're gone. I couldn't wait to hug your neck and talk with you again. Rest easy brother. See you on the other side. #Covidsucks pic.twitter.com/DjmieTBi0w

— Coach Chris Fowler (@coach_fowler63) July 23, 2020
My time spent at Duluth I was blessed to meet James Doby. An absolutely phenomenal kid. I saw him overcome obstacles to do something he loved, there was never a moment you would be around this kid and not smile. I'm forever greatful to have known this kid. R.I.P Doby! ☔️ pic.twitter.com/HgC8UnbStU

— Clyde R. Grady Jr. (@coach_grady) July 23, 2020
Yesterday, we lost a GREAT person. James Doby was one of a kind! He had a smile that would light up the room and a sense of humor that would keep you laughing for days. He was selfless, sincere and a good hearted person which made him a great teammate.

— Tommy Smith Jr. (@coach33smith) July 23, 2020
Today I found out that one of my former players lost his life to Covid. He was a great kid and makes me really appreciate why we do this. Had the chance to coach him for 3-yrs and he loved football and his school/team. He was what HS football should be about.

— Chamblee Charter HS Football (@ChambleeFB) July 23, 2020