It's a Saturday in 2006. All over the country, kids just happy to have the day off school spend the morning in various ways. Some sleep in, some watch cartoons, and others wake up to the roar of a vacuum cleaner and a gloriously long list of chores.
As for kids like Lee Lamb, though, Saturday mornings could be enjoyed by switching on the PlayStation 2, opening the NBA 2K7 video game case donning then-Miami Heat center Shaquille O'Neal on the cover, and smashing records with a virtual prime time Paul Pierce.
Of course, as much as eight-year-old Lamb may have enjoyed playing the game at the time, he had no imagination of how far it would take him. Dreams of first-round draft picks, All-Rookie team selections, and a professional career as a glass-eating center wouldn't have touched the young man's mind for years to come. At the time, NBA 2K was nothing more than a Saturday morning pastime.
In fact, it wasn't until the release of NBA 2K16, almost three years after the release of the PlayStation 4, that Lamb began to realize his knack for the game.
"I'm not saying I was the best or even on a competitive level yet, but I was good. Against all of the Average Joe's I played against, I was doing my thing," he said.
Lamb continued to play and hone his skills up to NBA 2K19, when he embarked on his journey from good to great. In 2K19, Lamb began playing online against professional and skilled amateur players in Pro-Am games. From there, his dreams to play professionally in the NBA 2K League took off.
"The league was already out for about a year," Lamb said. "I tried out for season two from 2K19 going into 2K20, but I just kind of wasn't giving it my all yet, but the 2K20 season, I was just like, it's do or die. Let me just go all in for this, because if I'm not going to go all in for it, then there's no point."
After failing to make the league in its second season, Lamb made several key changes in his preparation for his tryout for the season.
"I play center in the league currently, so in 2K19, I played center the whole year. I didn't really have a brand that big or anything," he said. "I had to get my brand up a little bit so people could notice and watch me and know that 'Hey, I'm here and this is what I'm going to do.' The change that I made in 2K20 was I changed positions to power forward and I played 2K on both of the consoles. It gave me the best chance I could have playing against all the top talent. I started being on twitter more, I got in every league I could get in, I was playing the game pretty much 24/7."
The fruits of Lamb's increased intensity showed immediately, as he was selected by Hawks Talon Gaming, the official NBA 2K League affiliate of the Atlanta Hawks, with the 16th overall pick of the 2020 NBA 2K League draft.
"It was surreal. Since this happened about a month before COVID hit and we were still able to be in person, the draft was crazy. The whole event, the whole setup, everything was just amazing," said Lamb. "I was getting fly. I popped out with a nice fit… like, it's a day of confidence. You're going in there… a lot of people are uncertain about draft day because they don't know if they did enough but like I said, I gave it my all. If it just wasn't meant to be, then that's just where it lands, that's just where it lies."
Despite the grandeur of the moment, some critics saw Hawks Talon's pick as a reach, saying Lee's draft value wasn't worth a first-round pick. Lee, of course, felt quite the opposite and didn't hesitate to showcase those feelings in his rookie season. Despite barely missing the playoffs with a 7-9 record, Lamb showed out for his team, averaging a double-double in year one with 11.7 points and 12.3 rebounds per game. Lamb also finished the year with 2020 NBA 2K League All-Rookie Team honors. Though his first season in the league wasn't always the thrill ride he had hoped it would be, the young center learned how to function and how to win as a professional NBA 2K player.
"When COVID came around, it kind of got a little hard because when you start losing and you've got to stay home while you're losing, it gets mentally draining. Year one was definitely a learning experience and I feel like year two here, it's go time. Last year, I didn't win anything, so this year, I'm ready to win. I know what it takes to win now, I kind of know how the league is set up. I feel like it was just a really good learning experience, the first year," said Lamb.
One such point of growth in his rookie year was the development of his voice while on the court. Known as one of the more vocal players on the team, Lamb often plays into his louder personality in order to be a leader on gameday.
"I've always been loud. … Maybe it's because I'm from New York and that's the stigma that we have, but I'm loud. The way I think about it is no matter where you get drafted, who drafts you, at the end of the day, you have to be a certain age to be in this thing. So, we're all grown-ups and we're all professionals. So I treat everybody as if you're a grown up professional," he said. "Sometimes, there's stuff that happens and somebody just needs to be the one to call it out. If that's what ended up making me land the leader role, then that's just what it was. I'm just mentally in a state where I'm just ready to have success with this team."
Lamb's respectful, loud, and equal leadership has been key to the dynamic of Hawks Talon's success in 2021, as the team is currently riding a five-game win streak. After all, half of the team was drafted in 2021, including the team's leading scorer, rookie point guard CEEZ (Caesar A. Martinez). It's with young stars like CEEZ that Lamb can best use his philosophy to bring the brightest out of his teammates and himself.
"I necessarily don't try to be a leader, I just kind of tell them certain things on the court that I feel are better. I always ask them what I can do better. I'm saying what I think you should be doing, so it's only fair that you can critique me the same way because I want to hear it. I don't necessarily consider it a leader role. I just consider it like we're all good at the game and we're all just being counterintuitive to each other," he said.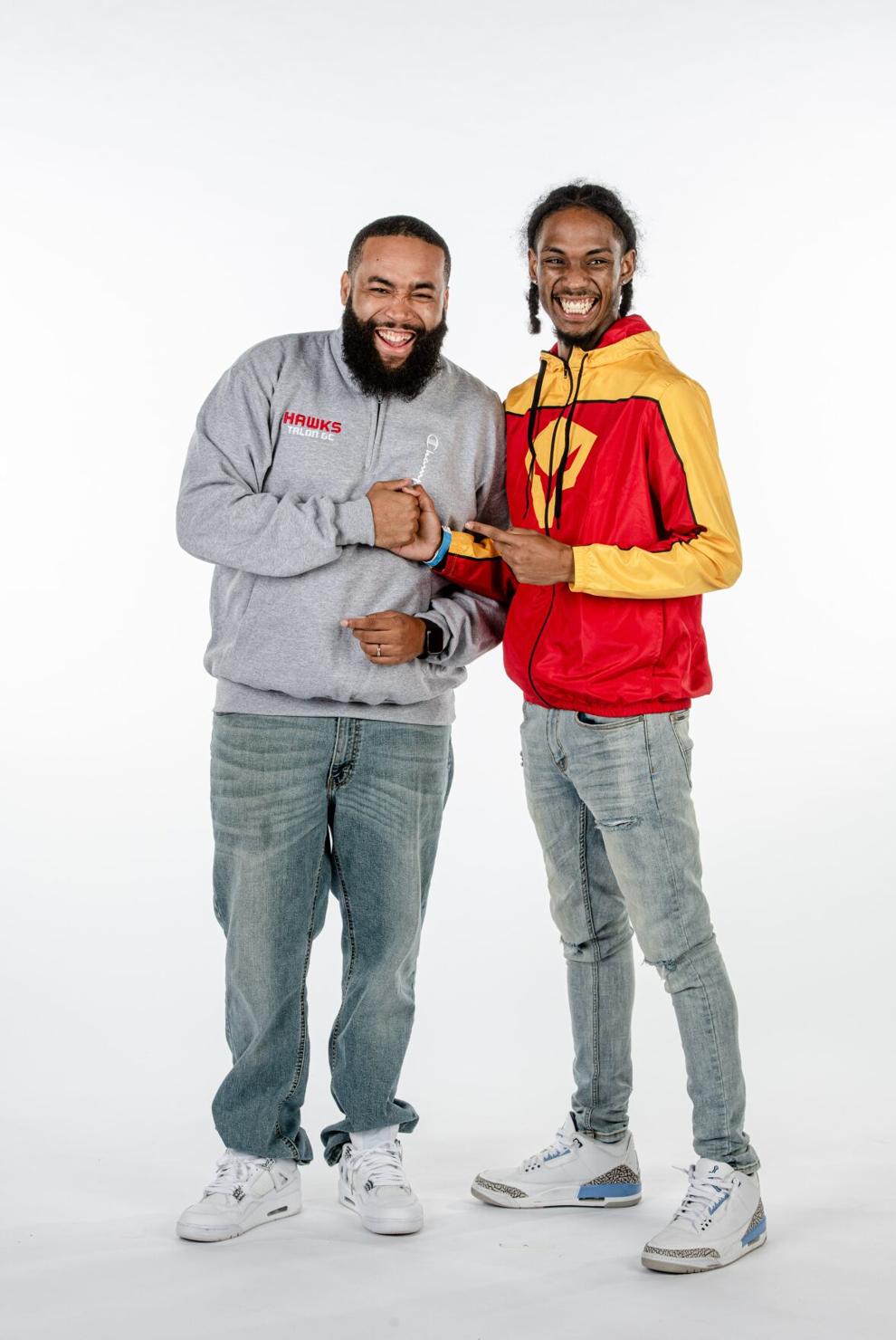 As Hawks Talon looks to keep their momentum rolling in 2021, Lamb has some very distinct goals for both his team and himself for this season and the years to come.
"I would love to make the playoffs and then compete to win a championship and then come back again next year. That's the dream story. ... Ideally, honestly, I think it can happen. I think it should happen. That is how I want things to go for me. I want to make the playoffs, I want to win some extra money, and I want to stay here," he said.
As hot as the team is now, Lamb's dreams don't seem too good to be true. Though it's uncertain as to whether Lamb will find himself in such a position in 2021 or not, Hawks Talon fans can be sure that he will work to get there the same way he did to get in the league, with the same love he first found for the game way back in 2006.