Tim Hardy, Greater Atlanta Christian School's athletic director and football coach, saw this coming, well before anyone else, because he saw what Ford Higgins and Paul Carothers were capable of doing long before they enrolled at the Naval Academy.
"Surprised? Not at all," he said. "You are talking about exceptional — I mean really, really exceptional — men in Paul and Ford. When they decided to go the Naval Academy to play, I felt that this isn't just good for the U.S. Naval Academy or the Navy – this is great for the United States of America."
The selfless leadership Hardy saw from Higgins and Carothers at the Norcross private school, where they had attended since they were elementary schoolers, is the same commitment that recently earned them both perhaps the biggest honor in all of sports: captain of a service academy sports team.
Carothers, a reserve linebacker, and Higgins, a starting center, were voted by their teammates along with outside linebacker Nizaire Cromartie and quarterback Malcolm Perry as captains, marking the first time in Navy football history the Midshipmen will have more than two captains.
"When we talked about voting, it came down to this: who would you want in your fox hole," Higgins said. "Who do you think would die for you?"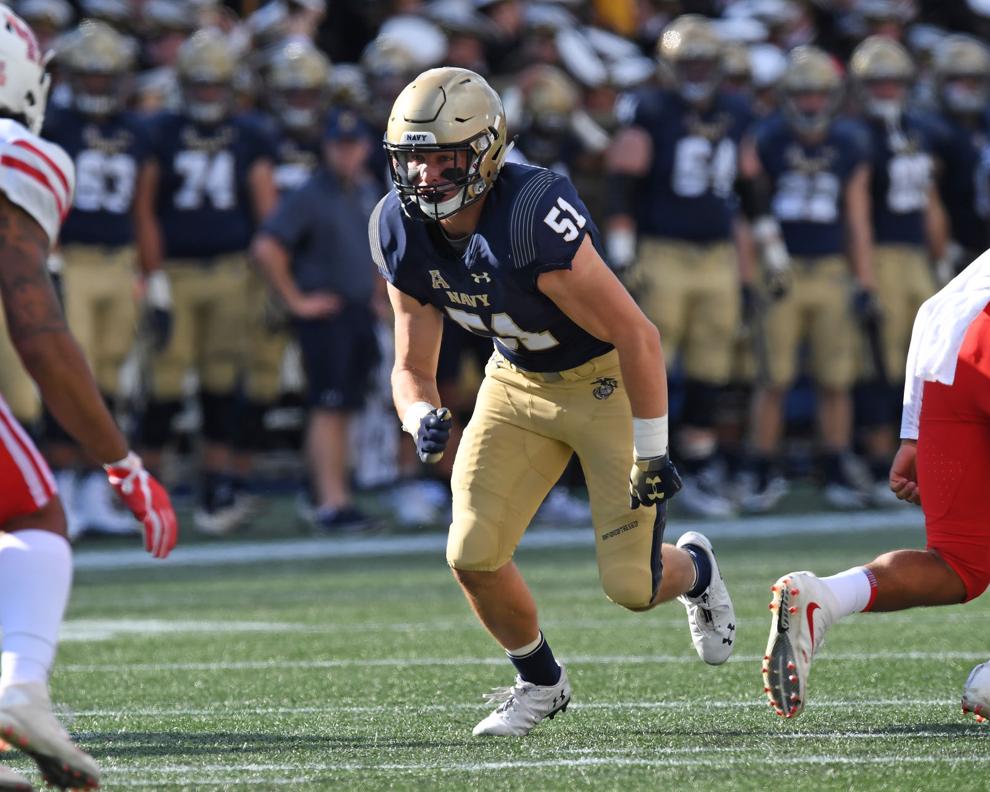 Hardy saw Carothers and Higgins' leadership traits for years. He knew it was only a matter of time before Navy coach Ken Niumatalolo would turn his former Spartan captains into captains for the Midshipmen.
"Paul and Ford keep adding to the legacy they've left at Greater Atlanta Christian," Hardy said. "When they were here, they had the character, the toughness and the elite leadership to get the most out of everyone on the team, every single day. What they've done at the Naval Academy is pretty exceptional."
The appointment of Carothers and Higgins as captains marks what is believed to be the first time a pair of high school teammates have been named captains of Navy's football team in the program's 139-year history. Navy named a single captain from 1905-68, but decided to have two in 1969. The team went back to one captain from 1970-73, before having two from 1974-2018.
"We wanted to go through winter conditioning, our fourth quarter workouts and spring practice before our team voted to give everybody ample opportunity to select captains based on who earned that privilege," Niumatalolo said. "I couldn't be more excited about the captains that our team selected."
Carothers and Higgins, who are both seniors, were separated by a year at Greater Atlanta Christian. Carothers, who graduated high school in 2015, attended Naval Academy Prep school during the 2015-2016 year before heading to Annapolis as a plebe. Meantime, Higgins graduated high school in 2016 and headed straight to Annapolis.
Higgins was one of the few bright spots last year for the Midshipmen, who lost to Air Force and Army — their two biggest games every year — en route to a 3-9 season, marking just the second time the Midshipmen finished with a losing record since 2002.
"No one on this team wants to experience that again," Carothers said. "It was one of the worst seasons any of us have been through. But this is going to be a new year and we are looking at last year like, yes, it did happen and we are going to learn from it. It is going to make us better. If we had gone 9-4 or 8-5 would we have the same attitude as we have now? What happened last year doesn't change anything about this year. The goals don't change. We have goals and we want to reach them."
Higgins, whose family resides in Norcross, graded out as the team's best offensive lineman, as he started a dozen games at center and one at left tackle in Navy's run-heavy offense.
"As captains, we need to set an example for everyone to follow," Higgins said.
Meantime, Carothers has appeared in 12 games, mostly as a member of the kickoff coverage, kickoff return and punt return teams, in his first three seasons. But the manner in which Carothers has carried himself during his time in Annapolis didn't go unnoticed by his teammates.
"What we've learned from Paul is that you always have to keep rolling on and going forward, no matter what happens," Higgins said. "He's taught us that life is never as good as it seems and on your worst days, it's never has bad as it seems."
Carothers has been a symbol of perseverance since arriving at the Academy. Nothing is easy at Navy, from the academics, to the highly restrictive schedule and to the playing field, where Navy often competes against teams filled with players who are bigger and more heavily recruited coming out of high school. Carothers is a 6-foot-1, 213-pound linebacker, while Higgins is a 6-foot-2, 260-pound center. By comparison, Lamont Gaillard, who started for the Georgia Bulldogs last year and was selected in the sixth round of the NFL Draft, is 6-foot-2 and 305 pounds.
Carothers' faith was put to the test on Nov. 18, 2016, when his father, Patrick Carothers, a U.S. Marshal, was killed in the line of duty while attempting to serve a warrant on a fugitive in Long County, which is about 60 miles southwest of Savannah.
"I know my mom and dad are proud of me and I wouldn't be here without everything they've done for me," Carothers, whose family resides in Flowery Branch, said. "Family is everything to me."
Carothers and Higgins know this likely will be their last season of football. When asked about the future, they don't talk about playing professionally. But that doesn't mean they won't be part of a mission-driven team.
They are both seeking commissions that will enable them to lead Marines on the ground, perhaps the most dangerous assignment a Navy graduate can pursue. Ford and Higgins want to be leading their team — their unit — just as they did in the football field.
"On the football field, you have to work together and you have a mission you have to accomplish," Higgins said. "Leading troops is the same way — it's like a football team. It's a family, a brotherhood."