Parsons Elementary School kindergarten teacher Jennifer Kim gestured while sounding out a short phrase in Korean.
In the second week of kindergarten, students sat on a rug in the center of her room and most became silent and attentive. She drew out gestures with her hands and murmured instructions in Korean to the students who weren't yet following her directions.
Eventually, she gets all of their attention. She plays a video with a song that sounds like it's out of a daytime children's cartoon. Some kids start happily bobbing their heads to the beat. The numbers one through 10 appear on the screen and kids follow the track by regurgitating the numbers in Korean.
"The language itself, they're catching on way faster than I thought," Kim said. "I taught them colors and they're saying colors already. This is my second lesson on numbers and they're already saying numbers."
Visuals, media, sights and sounds, Kim learned, is the way to get her students' attention even when some of them can't understand her. As Parsons Elementary School's first Dual Language Immersion teacher introducing kindergartners to Korean, she often resists the urge of breaking into English. Even to give students directions, speaking English defeats the purpose of the program.
The group of kindergartners spend half of the school day in Kim's class where they learn math, science and science literacy in Korean. For the other half of the day, they learn reading, writing, social studies and English in Deirdre Gambrell's classroom.
"Routines and procedures are huge, especially since half the day they're not hearing English," Gambrell said. "In any kindergarten class, you're going to go through routines and procedures in August. For us it's just a little more of a challenge, but a great opportunity for us to work together."
Kim, who first arrived at Parsons last year for the program, thought the hardest part of teaching kindergartners Korean would be teaching the material. She's had to invent new ideas to grab students' attention, lead them through the hallways or give them permission to use the bathroom all while speaking only Korean.
Still she's optimistic, given that students are beginning to catch on in just two weeks of dual language immersion.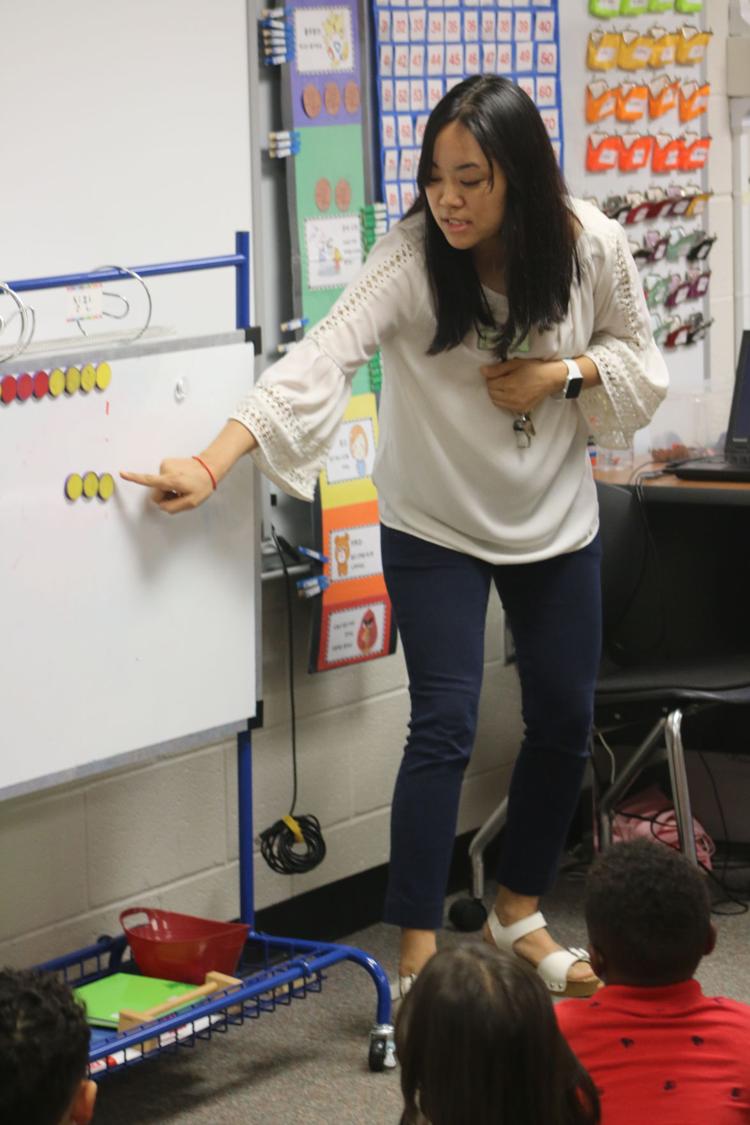 The concept comes from looking decades into the future. The school system predicts that communication and collaboration in the global marketplace will become increasingly valuable as current elementary school students prepare for college and the real world.
Information from the Georgia Department of Education says that DLI students develop "greater cognitive flexibility, demonstrating increased attention and memory, superior problem-solving skills as well as an enhanced understanding of their primary language."
For Korean in particular, the fit makes sense as Gwinnett County has the largest Korean population of any county in the state and the Interstate 85 corridor is a hub for Korean businesses.
"We're looking 20 years out for these students when they hit the job market," Director of Foreign Languages Jon Valentine said. "We have no idea what the world is going to look like, but we do know that Asia has fast-growing economies. This is providing students with a language, long-term, that is a competitive advantage that not everyone has."
GCPS's two-teacher, 50-50 model is crucial to students' speedy progress in both learning a new language organically while simultaneously learning the district's Academic Knowledge and Skills, or AKS. In all schools, a team of two teachers, one being fluent in the target language, collaborate. Students learn mathematics and science in the new language for half of the day, then they go learn language arts and social studies in English. By high school graduation, participating students will have acquired solid bilingual skills.
While this is the first year Gwinnett County Public Schools is offering dual language immersion in Korean, the program started in 2014 in Spanish at Annistown and Bethesda Elementary Schools and in French at Trip Elementary School. There are now nine total schools in Gwinnett County that offer dual language immersion — seven in Spanish, one in French and Parsons' new Korean program.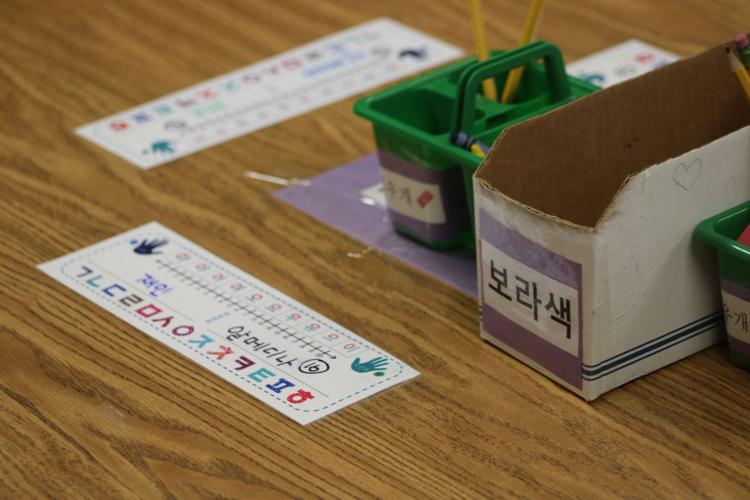 At a job and college fair at the J. Alvin Wilbanks Instructional Center in May, Valentine stood at a booth and passed out his business cards to any bilingual high school student willing to grab one.
In roughly four years, there will be a projected 4,000 students enrolled in DLI in the county. The first cohort of Spanish students will be starting high school. There will be need for a projected 132 teachers for the program, including staff at Grayson, Berrmar and Shiloh High Schools.
Valentine and his colleague Virin Vedder looked at DLI programs across the country and asked themselves what the goals of the program would be and what would be required for success. They started by first hiring teachers with a very specific skill set: functionally bilingual, bi-literate teachers who are knowledgeable in district's AKS.
"That's not always easy to find," Valentine said.
The knowledge required to integrate of the program in the school district transcends the classroom. Valentine compares DLI to an optometry lens. GCPS has functioned for decades, but hadn't "clicked on" the level of knowledge necessary to launch a functioning DLI program. The district created a dual language advisory team with a representative from every office in the district — assessments, counseling and budgeting.
"We recognize DLI affects every system within a school system," Valentine said.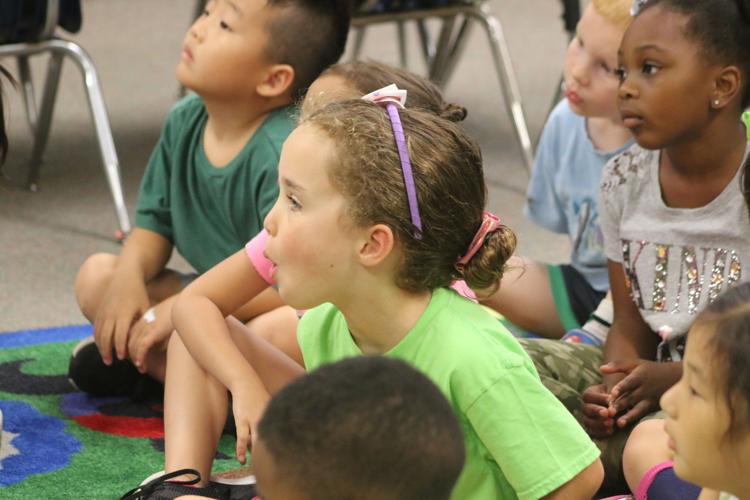 The school district brought in an external evaluator in its infancy stages who submitted a report on how the program was functioning well and what it could improve. Valentine asked him for his thousand-foot view of successful DLI programs across the country and what makes them successful.
"What he's seen is, DLI works everywhere, but it works a whole lot better if you snap it on an already functioning school system," Valentine said. "You take a program as intricate and complex as dual language immersion onto a good school system, and it runs seamlessly."
When Vedder, a former assistant principal at Trip Elementary School, came on board in February 2015 as an Instructional Coach in GCPS' Office of Foreign Languages, he and Valentine set out to develop and create the best DLI program in the country.
"I think that's what we have," Valentine said.
The two new parts of Valentine's job are to support Parsons Elementary and prepare for the first cohort of Spanish-speaking students to continue to middle school.
Parents interested in enrolling students in DLI register their children and submit them to a lottery. Parsons has several students in the DLI program from outside of the traditional school district attending the school on permissive transfer. Students naturally zoned for the school are prioritized first, the rest are placed on a wait list. The wait list dissolves after kindergarten. Only native Korean speakers can enroll in the program after kindergarten.
"Some (parents) who have third graders say, 'Why can't we have it in third grade?'" Parsons principal Laura Clark said. "I think that the way we're rolling it out sets the program up for success. It's allowed us to hire the effective teachers."
There is still plenty of future hiring and development to go, but the school system's early take is that the program is working. Valentine said DLI students perform as well as their non-DLI peers on "every measure," in addition to learning a new language.
Nothing is being lost, he said.
"I read all the literature and do all the research, and I know it works," Valentine said. "Then at three-in-the-morning, I'll freak out. Then the next morning I'll usually make a call and go out to one of the schools and go in and sit down in a third-grade class and realize, I'm not worried."