"Oh baby, it's good to be back in Hot-lanta."
FOX Sports South's play-by-play broadcaster Chip Caray's voice crescendoes on-air to match the noise of the crowd behind him, applauding the Atlanta Braves on July 2 at SunTrust Park. The Braves took the field after 10 consecutive games on the road. It was, indeed, good to be back.
Caray's vigor seems to impress his partner, Jeff Francoeur, or it at least takes him by surprise. He answers silently with a grin and nod of his head. The highlight reel of the Braves' road trip ends and the camera cuts to Caray and Francoeur in the booth. Francoeur's grin morphs into a serious smolder.
The Parkview High School grad is a rookie again, somewhat. He's had roughly half of a baseball season under his belt, plus 20-or-so televised games in 2018, as a professional baseball broadcaster. While he split time between radio and TV last year, broadcasting is his full-time job now. He is scheduled to cover more than 100 games, including some road trips, with the Braves this season.
"I was wondering if I'd hold up, or get tired of doing it," Francoeur says before the game. "I think the biggest thing you get tired of is road trips. I've forgotten what it's like to travel and enjoyed seeing my family. The one thing I do enjoy is coming to the park and talking baseball every day."
He feels like he's gotten the hang of how to prepare for games, but he's still trying to clean up his broadcasts. Fans unaccustomed to his voice — or simply frustrated he wasn't former full-time FOX Sports South analyst Joe Simpson — tweeted some criticism his direction at the beginning of the 2019 season. It's a reality that young broadcasters can't escape these days, Caray said.
Francoeur, though, wants to continue to bring people a part of the game fans don't know about. In that respect, he's in the prime of his career as a well-connected, former big leaguer who played his last game in 2016.
Back in the booth, Caray delivers the final words of his pre-game script as Francoeur takes off his headset. The broadcast goes to commercial and their microphones go dead.
"Gretchen (Kaney, FOX Sports South Braves producer) says I'm best dressed tonight," Francoeur tells a crowded broadcast booth with a permanent, made-for-TV smile glued to his face. He doesn't hesitate to antagonize Caray, who usually has a witty response.
Francoeur's suit isn't the uniform he thought he'd be wearing in his mid-30s when he was a rising first-round draft pick at Parkview. But sometime during his days in Triple-A El Paso in 2014, Francoeur had a thought: "What the hell am I doing here?"
Francoeur mingled with Phillies broadcasters John Kruk, Tom McCarthy and Scott Franzke in 2015 during his one-year stint in Philadelphia. He picked the brains of Caray and Simpson about the nuances of the job when he returned to Atlanta in 2016. The reality he wouldn't be playing baseball into his mid-30s was apparent.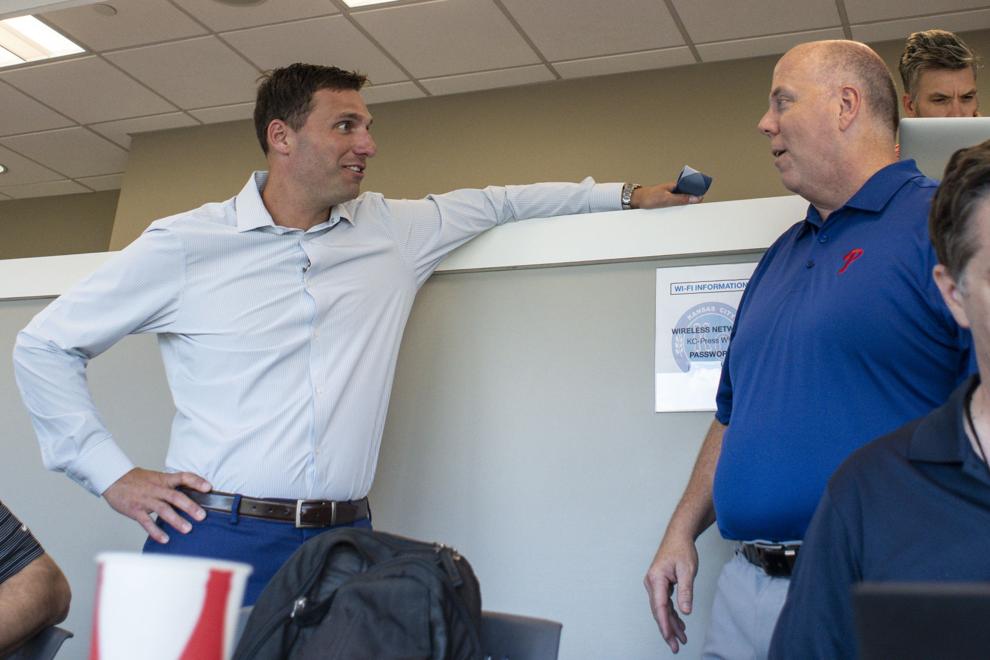 Baseball, though, is a tantalizing game, and he didn't want to leave it forever. Coaching takes away more family time than playing. As a broadcaster, though, Francoeur will spend nearly a month at the beach with his wife, Catie; daughter, Emma; son, Brayden and infant, Eleanor.
Back with the BravesJust before first pitch, Francoeur and Caray settle into their seats for the next three-or-so hours. The broadcast booth is their office. Francoeur's elbows prop his folded hands on the desk as he remarks about a FOX Sports South graphic showing statistics about newly-signed Braves starting pitcher Dallas Keuchel, who is making his home debut.
"Brian McCann said he's got to get that cutter going against righties tonight," Francoeur said.
McCann and Francoeur debuted in the majors the same year. McCann, a Duluth High School graduate, was a later pick than Francoeur in the 2002 MLB June Amateur Draft, but got his start with the Braves about one month before him.
Francoeur and McCann have known each other since before they were teenagers and shared a house during their debut seasons.
"He can carry on a conversation with anybody," McCann said. "He's got that knack."
The fact that Francoeur and McCann discussed Keuchel before the game is fairly remarkable. On days that McCann starts behind the plate, he can be scarce in the Braves' clubhouse. McCann didn't talk to reporters before Keuchel's Atlanta debut, but he talked to Francoeur.
Not just a spectatorKeuchel's debut inning in Atlanta is perfect. The Braves come to the plate and, with one out, Marietta native Dansby Swanson digs into the batter's box. Swanson's third MLB season is on pace to be his best offensive season. Through 83 games Swanson was tied for third on the team with 15 homers.
Swanson didn't, however, join teammates Mike Soroka, Ronald Acuna and Freddie Freeman in Cleveland for the All-Star Game.
"He told me, 'My time will come,' and it was nice to hear him say that," Francoeur said, recounting an interaction he had with Swanson days before.
Not all analysts covering Major League Baseball teams make the continued effort to talk to players in the clubhouse. After 12 MLB seasons with eight different teams, his clubhouse ties and trademark smile make Francoeur amicable.
"I go in the locker room, and I get info" Francoeur said. "I get stuff that helps me in the broadcast booth — not necessarily going in and sharing what so-and-so told you, because I would never do that. But what you get is a understanding of what's going on with the team and the pulse of the team."
Francoeur would rather be talking to players and showing his face in the clubhouse than be paid just to watch the game. It's his true understanding of his job as an analyst. It's encouraging, Caray said off the air, to witness Francoeur's ambition to get information no one else has to supplement the broadcast.
Caray introduces the numbers, Francoeur gets the scoop.
"What's amazing about Jeff — and Tom (Glavine) for that matter — is they're so prepared," Caray said. "And Jeff is so knowledgable about contemporary baseball, that he can view the game as a player, not as a broadcaster."
In the second inning at SunTrust Park, the score is still 0-0 when Philadelphia outfielder Jay Bruce drives a ball deep to left, center field. Ronald Acuna Jr. sprints to the wall and halts, engaging a pounce position. His leaping try hauls in what would have been a for-sure, one-out double.
Francoeur stares at the monitor on his desk and analyzes the play on instant replay.
"It wasn't going out, but it was a great job of getting back and giving yourself the opportunity to make it an easier play," Francoeur said.
Francoeur said his bird's eye view of the field is the best part of his new gig. He can watch the pitcher, batter the shift and — of particular interest to the former outfielder — the jumps that players like Acuna can get on fly balls to make acrobatic catches like the one he made against Philadelphia.
He does occasionally humble himself by remembering what Brave-turned-broadcaster John Smoltz once told him.
"The game looks a lot easier the farther away you get," Francoeur said.
A new chapter with the same intensityAs the bottom of the ninth is introduced with tomahawk chops, Francoeur stands up with sleeves rolled up to his elbows. Down to the last three outs, the game's not out of reach. A stellar night from Philadelphia ace Aaron Nola — eight strikeouts over eight scoreless innings — make for a safe bridge to the bullpen and Phillies closer Hector Neris.
Neris' slider is biting hard . He strikes out the side and tallies his 17th save. Ballgame over: Braves lose, 2-0.
The director makes the decision to go back up to Caray and Francoeur in the booth before beginning the postgame show. Francoeur touts Nola's ability to keep hitters off balance. He also acknowledged a start from Keuchel that was ruined by one blemish, a two-RBI double from Jay Bruce — one of two extra-base hits for the Phillies.
It's a long season, but that doesn't mean Francoeur isn't disappointed when the team loses. His best friend is part of the Braves' catching platoon. Brian Snitker managed Francoeur in Double-A Mississippi before he was promoted to the big leagues in 2005. Francoeur still feels a sense of camaraderie with the team he covers.
"The one thing, when I got into this job, is I want to do the Braves games," Francoeur said. "I don't want to do a Saturday FOX game in Chicago and have to fly out of town. And I'm a homer. I cheer for the guys. You've heard me, I've been critical when I had to be at times, but I truly pull for these guys."
The SunTrust Park press box is decorated with Sports Illustrated covers featuring Braves of the past: a few of Hank Aaron, the 1995 World Series Champions, one of Braves catcher Charlie O'Brien in mid-air about to slug the Mets' John Cangelosi, the Upton brothers with a fully uniformed Kate Upton sitting between them on a dugout bench.
Out of eyesight from the FOX Sports South broadcast booth is a cover featuring a portrait of Francoeur posed in a baseball card-like swing. In bold capital letters, it reads "THE NATURAL."
The piece billed Francoeur as a rising star and Rookie of the Year candidate. One year later in 2006, the Parkview phenom who led the Panthers to two baseball state titles slugged 29 homers in his first full season in the big leagues. He struggled, though, to maintain that consistency throughout his career. He was later quoted saying the "whirlwind" was probably too much too soon for a 21-year-old prospect.
What the SI piece nailed was his infectious personality that the manufactured smile on the magazine's cover doesn't do justice. Bobby Cox is quoted in the piece saying Francoeur's face had "Winner written all over it."
"I'm 35, I've got to work," Francoeur said. "I've got to do something. What better job than to call baseball here?"