IN CASE YOU MISSED IT: Top Gwinnett County stories from Nov. 2-8
Another vote, but it was the same result for transit in Gwinnett County.
These are the top stories from the past week.
Gwinnett has — once again — rejected a transit tax in narrow defeat of referendum
Another vote, but the same result when it comes to transit in Gwinnett County.
That was the story of Gwinnett County's transit referendum on Tuesday, as voters once again rejected a tax designed to fund transit expansion in the county. It was the second rejection of a transit referendum in as many years in Gwinnett — but this time the margin of defeat was much narrower.
In fact, Gwinnett was essentially split 50-50 on the issue this time around.
After a late batch of additional votes were counted on Friday afternoon, however, the "No" votes still led just barely with 50.14% of the votes cast in the referendum.
"We knew from the beginning that the vote would be close," Gwinnett County Commission Chairwoman Charlotte Nash said. "While I would have preferred a different outcome, I can't say that I have regrets. Transit was not on my list of goals when I was elected, but I came to believe it is important for Gwinnett's future."
The defeat of the referendum means Gwinnett County must go back to the drawing board on transit.
In 2019, a bid to join MARTA, which would have carried out Gwinnett County's Connect Gwinnett transit expansion plan, was defeated with 54.32% of voters casting "No" votes.
This time around, the idea was, instead of merging the existing Gwinnett County Transit into MARTA, to just expand the county's transit system and leave it as its own separate system. The referendum did include extending MARTA rail from the Doraville station to the Jimmy Carter Boulevard corridor, though.
The transit expansion would have been funded by a 30-year sales tax that voters had to approve through the referendum.
Instead, although supporters came closer to getting passage, enough voters still said "No thanks" to defeat the proposal.
"I was fortunate enough to help influence legislation that set the stage for a new approach to transit funding," Nash said. "The other Board members and I took this route with this most recent referendum that lost by a razor-thin margin. Now, it will be up to future commissioners to decide the path to take on transit expansion."
That's exactly how incoming commission chairwoman-elect Nicole Love Hendrickson sees it. She said the incoming new Board of Commissioners, which will include three new members including herself, now have to figure out a way to handle the challenge of expanding transit to meet the county's future growth needs.
"That is now going to be the (Board of Commissioners') challenge to start focusing on on Day One: How do we start to build out a comprehensive transportation plan that connects us to the region," Hendrickson said.
"We were really depending on that (referendum passing) to really help move us forward with mobility, connectivity, to help us manage our growth."
Hendrickson said addressing growth is the biggest challenge facing the county right now. It is expected to add half a million new residents by 2050.
"That's concerning to me, and if this transit vote fails, I don't know, without being able to leverage a sales tax and being able to even leverage federal match dollars, how we're going to be able to successfully pay for a comprehensive transit system, which the voters think we should do on our own," Hendrickson said. "But we can't do that. We need money to do that."
The transit referendum had been seen by some observers as a legacy project for Nash, who is retiring and leaving office at the end of the year, but the outgoing chairwoman said she did not see it that way.
"As for legacy, no one individual can legitimately take credit for county accomplishments since there are always so many individuals and groups who make those happen," she said.
Gwinnett County elects its first Black sheriff; result likely means Gwinnett will end participation in controversial 287(g) program
There are two big stories to take away from the election results in the Gwinnett County sheriff's race.
One is that Gwinnett has elected its first Black sheriff. The other is that his election likely signals the end of the county's participation in the controversial 287(g) program that retiring Sheriff Butch Conway has long been a champion of.
Keybo Taylor, the Democratic Party candidate, defeated Chief Deputy Lou Solis — who was Conway's handpicked preferred successor — with 230,457 votes, or 57.37% of the votes cast in the race, according to unofficial results.
Taylor's margin of victory was 59,230 votes over Solis.
"Yesterday, we finished the drill," Taylor said in a letter to supporters on Wednesday. "You lifted your voices at the polls and stood in solidarity with an agenda that includes all of Gwinnett."
By Curt Yeomans curt.yeomans@gwinnettdailypost.com
Taylor was one of several people of color that Gwinnett County voters swept into office on Tuesday as the longtime Republican stronghold turned to Democrats in nearly every local race to be the county's new leaders.
But, perhaps the biggest area where Taylor's election will be felt will be in the ongoing debate over whether Gwinnett County should continue participating in the controversial 287(g) program.
Under the program, the sheriff's office places immigration holds on undocumented residents who are arrested for crimes and booked into the county jail. Those inmates are then turned over to U.S. Immigrations and Customs Enforcement, through a partnership between ICE and the sheriff's office.
"Friends, we share the same passions," Taylor told supporters. "Along the campaign trail, I spent hours listening to your needs. You voiced concerns for community inclusion, neighborhood safety, the 287(g) program and nonviolent interactions with law enforcement personnel.
"In the upcoming months, my team and I will implement robust plans which will address these concerns. My goal as your sheriff is to lead an office that truly serves the needs of every constituent in our county."
By Curt Yeomans curt.yeomans@gwinnettdailypost.com
Conway has long touted what he saw as the value of participating in the program, claiming it kept the county safe. Opponents claimed it unfairly targeted Hispanics and led to people in that community being reluctant to report crimes out of fear that they would be deported if they did so.
Taylor has said in the past that he would end the participation of the Sheriff's Office in the program if he was elected.
Solis conceded the race to Taylor early Wednesday morning, and called for unity behind the incoming new sheriff.
"To all those who voted for and supported my run for Gwinnett County Sheriff, thank you. I won't forget your kindness," Solis said in the statement on his Facebook page. "At this time I ask you all to focus on making Gwinnett County united and stronger. This means supporting the new Sheriff-elect Keybo Taylor. I wish him success as the next Gwinnett County Sheriff. I also want to publicly thank my staff and all the hard working Deputies at the Gwinnett County Sheriff's Office."
FBI says suspect in series of Gwinnett bank robberies has been arrested
A man accused of robbing multiple banks in Gwinnett County, and firing a gun inside those banks, in recent months has been captured, the FBI announced on Monday.
Lawrenceville resident Eric Letman, 55, is facing federal bank robbery charges in connection with four incidents that happened at banks in Lawrenceville, Dacula and Grayson on four occasions between June and October. He was arrested on Friday after a teller at a bank in Dacula noticed a vehicle the FBI had previously announced was tied to the other robberies.
"A teller at a bank in Dacula noticed a suspicious vehicle driving around the bank," FBI officials said. "The teller recognized it as the suspect vehicle from news reports last Wednesday on four previous robberies."
Gwinnett County police responded to a 911 call from the teller and stopped the vehicle, and Letman was arrested. The FBI said evidence allegedly connecting the suspect to the robberies was found in the vehicle.
Gwinnett County jail records show five armed robbery charges against him.
Blue wave hits Gwinnett as Democrats dominate local races
Nationally, outside of possibly the presidential race, the election on Tuesday may not have gone the way Democrats would have liked, but the Gwinnett County Democratic had several reasons to celebrate.
The local party, which had invested financially in efforts to drive voter turnout for the election, dominated local races on Tuesday, winning nearly every seat they competed for. There will now be only two Republicans left in local seats in the county.
"I'm absolutely proud of all of our candidates," Gwinnett Democratic Party Chairwoman Bianca Keaton said. "We did a great job on the county races, which I absolutely knew that we would, and we defended every one of the gains that we made in 2018 and we picked up a couple of additional seats in the state legislature.
"And those are all feathers that we can put in our cap."
Democrats gained considerable power in the county on Tuesday, building off of successes from the 2018 elections and flipping control of the county commission and school board, as well as the sheriff's, district attorney's, tax commissioner's offices. And, most notably, it appears to have flipped the 7th Congressional District seat.
Democrats also gained a little ground in the Gwinnett legislative delegation at the state Capitol, ousting state Sen. P.K. Martin and state Rep. Brett Harrell while holding off challenges aimed at undoing some of their legislative gains from 2016 and 2018.
"Those are all things we can be proud of moving forward," Keaton said. "We'll be on standby for how things change in the future with the lines and how their drawn (during redistricting)."
In many ways, it served as a reverse of the 1984 election, when Republicans swept local races and flipped the balance of power away Democrats, who had held power for years before that.
Georgia Gwinnett College political science professor Matthew Gunning said increasing racial diversity and a shift among some college-educated white voters living in suburban areas to the Democratic Party are shaping the politics of Gwinnett County — which had been a longtime Republican stronghold.
"Both of those factors are really driving Gwinnett turning blue," he said.
A sign of how far Gwinnett has been moving to Democrats is how top of the ticket Democrats have done in the county since 2016.
Four years ago, Hillary Clinton just barely won the county in the presidential race. Two years ago, Stacey Abrams got about 56% of the votes cast in Gwinnett in the gubernatorial race.
This year, Joe Biden got more than 58% of the votes cast in Gwinnett in the presidential election.
Perhaps a sign of how important Gwinnett had become to Democrats was the fact that the party's vice-presidential nominee, Kamala Harris, came the county two days before election day for a drive-in rally with key supporters in Duluth.
The county had drawn candidates seeking their respective party's nomination for president before, this was the first time in at least a while that it had drawn a member of a national ticket.
Keaton said it took a lot of pleading the county party's case to make that happen.
"I talked to everyone who would listen," she said.
A big win in Georgia's 7th Congressional District
A major development with national implications was the flipping of the 7th Congressional District from Republican to Democratic control.
Gunning said Democrats nationally lost some seats in Congress during this election, flipping the 7th District is one factor in why the party will maintain control of the U.S. House of Representatives.
The district is also unique among congressional districts that flipped this week, according to Gunning.
"She is the only gain for the Democratic Party nationally that did not involve redistricting of maps," he said. "In general, Republicans had a good night in the House. They're going to gain something like eight to 10 seats, and the Bourdeaux victory — without it, the Republicans would be even closer to getting control of the House.
"So, overall, it was not a good night for Democrats in the House of Representatives — except here in Gwinnett County."
Two other seats that flipped to Democrats in North Carolina had recently been redrawn to favor Democrats, Gunning said.
But, flipping the seat was a goal of local Democrats because of how close Bourdeaux came to flipping it in 2018. She lost by 433 votes in an election where there was controversy about absentee ballots being rejected because of signature mismatches, and problems at polling locations on election day.
"Here's the deal," Keaton said. "In 2018, the 7th District was one of those races where voting irregularities took it out of our hands. Had the election not had all of those irregularities, we would have claimed the 7th District in 2018.
"We just came back in 2020 to finish the job."
Most local offices in Gwinnett flip Democrat
One big development to come out of the election is that Gwinnett will have its first all-Democrat county commission in decades, and be led by an African-American for the first time ever, based on unofficial results.
Nicole Love Hendrickson defeated Republican David Post in the open chairman's race.
"I feel good," Hendrickson said early Wednesday morning.
In other commission races, Kirkland Carden defeated his Republican challenger, Laurie McClain, in the District 1 race while Jasper Watkins III defeated Republican Ben Archer in the District 3 race.
There are two key perspectives to view the commission results through.
One is how quickly the commission flipped from Republican to Democrat. Heading into the 2018 elections, the commission was entirely made up of Republicans. In January, there won't be any members of the GOP of the county's governing body.
The other key perspective is that, come January, the commission will be made up entirely of people of color with four African-Americans and one Asian-American.
Elsewhere, longtime District Attorney Danny Porter, who has held the office since 1992, appeared headed for defeat at the hands of Democrat Patsy Austin-Gatson.
Democrat Keybo Taylor defeated Republican Lou Solis, the chief deputy in the Gwinnett Sheriff's Office, in the open race for sheriff. Taylor will be the first Democrat to hold the office of sheriff since 1984 and he will replace Sheriff Butch Conway, who chose to retire rather than seek re-election to the office he's held since he was first elected in 1996.
In the tax commissioner's race, incumbent Republican Tax Commissioner Richard Steele was defeated by the Democratic challenger, Tiffany Porter.
On the Gwinnett County Board of Education, Democrats did not win every race that they ran, but they did win enough to likely flip control of the board from Republicans.
The Democrats only needed to flip one seat on the school board in this election to take control of the board.
They got that flip in District 1, as Republican incumbent Board Member Carol Boyce was defeated by Democrat Karen Watkins.
But, in District 3, Republican incumbent board member Mary Kay Murphy narrowly held on to defeat Democrat Tanisha Banks.
There was a write-in campaign from George Puicar challenging Democrat Tarece Johnson in District 5 for the school board, but county officials have not yet disclosed how many votes he got as ballots continued to be counted into the weekend. Write-in candidates have typically faced an uphill battle to get elected, so it remains to be seen if that will be different this time.
The seat was already held by a Democrat, Louise Radloff, so if Johnson managed to hold off the write-in challenge, it won't flip.
"We didn't win every every race (for school board), but we flipped it," Keaton said.
After nearly 30 years in office, Danny Porter is out as Gwinnett County elects its first Black DA
The Gwinnett County District Attorney's Office is about to see a huge change.
DA Danny Porter had held the office for nearly 30 years, going back to 1992. His bid to serve one more term in the office came up short on Tuesday, however, after he was defeated by his Democratic challenger Patsy Austin-Gatson.
But, the result is notable for more than just how long Porter had held the office.
Austin-Gatson, who is one of several Democrats and people of color who were ushered into office by voters on Tuesday, will make Gwinnett history as the county's first Black district attorney.
She earned 225,600 votes, or 55.97% of the votes cast in the race, according to unofficial results.
Austin-Gatson's margin of victory was 48,153 votes over Porter, who had briefly flirted with the idea of switching parties and running for one final term as a Democrat before heading off into retirement.
There were multiple backstories in the race, including the ongoing spat between Porter and soon-to-be-former Superior Court Judge Kathryn Schrader which resulted in the judge facing computer trespassing charges.
By Curt Yeomans curt.yeomans@gwinnettdailypost.com
Another backstory was the back-and-forth between Porter and Austin-Gatson, as well as with the Solicitor General's office where Austin-Gatson works. Porter had filed a state ethics complaint against Austin-Gatson, claiming she, her husband, Travis Gatson, and former Sheriff's candidate Curtis Clemons had used county resources to campaign for office.
Austin-Gatson and Clemons have denied any wrongdoing.
By Curt Yeomans curt.yeomans@gwinnettdailypost.com
Nicole Love Hendrickson looking to use her government, nonprofit experience in new role as Gwinnett's commission chairwoman
As Nicole Love Hendrickson prepares to become the next head of Gwinnett County government, there's one person who said she's expecting the commission chairwoman-elect to do well in the role: current Gwinnett County Commission Chairwoman Charlotte Nash.
Hendrickson made history on Tuesday when she defeated Republican David Post and was elected to become Gwinnett's first person of color, and only the third woman, to be elected as the county's commission chairman.
"I know that she loves Gwinnett and that she be guided by her desire to do what benefits the County, its people and its businesses," Nash said. "I anticipate that she will work hard to learn the parts of her role that are new to her, which is a great way to start any new endeavor. I look forward to seeing her successes as (Gwinnett's) Commission Chair."
Hendrickson will be the first Black person to serve as county commission chairman, who is the elected head of county government. It is the first elected office she will have ever held.
She said she feels she's inheriting a county that is well-positioned for future growth — which is is something she sees as one of Gwinnett's top issues to deal with.
But, who is Nicole Love Hendrickson?
While the 40-year-old mother has no elected experience, she is not coming into the job totally green when it comes to county government. She was the county's community outreach director for about five years before leaving that job to run for commission chair.
"I know the leadership structure," Hendrickson said. "I know all of the department heads because I've worked with them. I understand how decisions on policy are made. I've attended Board of Commissioners meetings, so I know how they work, so yes, I have a strong basis of where I'm starting from.
"It's not I'm starting from scratch, just out of thin air."
One of the more well known programs created during during her tenure with the county was the Gwinnett 101 program where residents can learn about how county government works. She also oversaw the county's youth commission and cultural outreach programs.
A lot of that work has entailed bringing people from different backgrounds together, she said.
"I think that gives me a unique experience and perspective on how we move forward to address some of our challenges because it's going to take a lot of bipartisanship to start advancing some of the things we want to do, it's going to take a collective effort," Hendrickson said.
"I realize there are Republicans that did not vote for me, there's constituents who did not vote for me, but I realize that in order to address the real challenges, it's going to take a collective effort. I have experience bringing people to the table, and building consensus and building community and building a platform where voices can be heard and people can have a seat at the table, and we can work toward a unified vision."
She was also familiar with the Gwinnett County community before she joined the county government. She previously worked with the Gwinnett Coalition for Health and Human Services as an associate director for seven years before joining the county government.
Hendrickson said that nonprofit experience will come in handy as the county continues efforts it has begun in recent years to address homelessness in Gwinnett.
"The nonprofit experience has given me into what some of the challenges are of our indigent community, like what does poverty look like to people who are experiencing poverty, what are the challenges with some systemic issues that have created poverty, homelessness, food insecurity and really just looking at it from a policy lens," she said.
Hendrickson said she plans to use her background in social work and social welfare policy to find ways to "leverage local, state, federal opportunities" to tackle issues related to poverty in Gwinnett County.
"So I think nonprofit gives me that lens to better address those challenges because they're here and COVID has exacerbated some of that and we're going to need to address it," she said. "We can't ignore it because it's going to create a deeper divide and that's just not what we need."
And, Nash said the county government and nonprofit parts of Hendrickson's background should help her as she transitions into the role.
"Ms. Hendrickson's experience with Gwinnett County, and with the Gwinnett Coalition, have given her a head start with building relationships across Gwinnett and beyond," the current chairwoman said. "Those relationships will be valuable as she advocates for Gwinnett.
"Her time with Gwinnett as an employee also means that she likely begins with a level of trust from employees across the county organization, which will be helpful as she steps into her leadership of the organization."
One of the first things Hendrickson will have to look at is the county's budget. It will be an unusual situation because of the way Gwinnett's financial year works. The financial year is synced with the calendar year, so the budget is being prepared now by Nash, but it won't be voted on until Hendrickson's first meeting as chairwoman.
The proposed budget will be unveiled by Nash later this month. Traditionally, time is scheduled with members of the board to review it with staff, ask questions and make suggestions after it is unveiled.
"So, we're coming in adopting a budget that had been vetted by the previous board, but it is what it is," Hendrickson said.
Nash pledged with work with Hendrickson and fellow new commission members Kirkland Carden and Jasper Watkins III over the remainder of the year to get them up to speed on the budget and other aspects of county government before they take office. The new commissioners, all Democrats, will also have two fellow Democrats, Ben Ku and Marlene Fosque, who are already on the board, and who helped create the goals the budget was based on.
But there will also be some one-on-one time between Gwinnett's current chairwoman and its incoming chairwoman to work on the transfer of power..
"I expect to spend time with chair-elect Hendrickson focusing specifically on responsibilities that are unique to the chair position as well as more general topics like finances and infrastructure," Nash said. "Many of these activities include representing Gwinnett externally at the regional level."
After all, next year, Hendrickson will be the one building and presenting the county's proposed budget.
Two influential GOP lawmakers from Gwinnett concede defeat in Tuesday's elections
There were not many Republicans left in Gwinnett County's legislative delegation, but two of the most prominent ones remaining in the group have conceded defeat to Democratic opponents.
State Rep. Brett Harrell, who chaired the House Ways and Means Committee, and state Sen. P.K. Martin, who led the Senate Education Committee, announced their concessions Wednesday morning.
Democrat Rebecca Mitchell defeated Harrell in the House District 106 race by receiving 17,593 votes, or 58.72% of the votes cast in the race.
"Congrats @Rebecca4Georgia who now has the incredible honor of representing our community in the state House," Harrell said as he conceded to Mitchell. "Thanks to all for allowing me that honor these past ten years."
Democrat Nikki Merritt defeated Martin in the Senate District 9 race by earning 53,864 votes, or 51.95% of the votes cast in the race.
"Serving Georgia's 9th district in the State Senate has been the greatest honor," Martin said in a concession announcement on Facebook. "There is a time to win and a time to lose. How we handle these situations in life determine our character. I would like to congratulate Nikki Merritt on her victory and wish her all the best in her time in the Georgia Senate. It is a special institution and place."
Those were the only seats in the delegation to flip parties. There will now be only five Republicans left in Gwinnett's 25-member legislative delegation.
Clint Dixon won Sen. Renee Unterman's Senate District 45 seat, meaning he will be the only Republican in Gwinnett's seven-seat Senate delegation. Meanwhile, GOP state Reps. Bonnie Rich, David Clark, Timothy Barr and Chuck Efstration appeared to hold onto their seats.
Democrat Michelle Au appeared to defeat Republican Matt Reeves for the Senate District 48 seat that became open when Sen. Zahra Karinshak chose to run unsuccessfully for Congress instead of seek re-election.
All of the Democrats in the county's legislative delegation held onto their seats as well. Democrat Marvin Lim did not have Republican challenger in the race to replace Rep. Brenda Lopez Romero in District 99.
Republicans see silver lining in Democrats' strong Georgia showing
ATLANTA — The last time a non-incumbent Democrat won a statewide race in Georgia was 1998 when Roy Barnes was elected governor.
President-elect Joe Biden ended that 22-year record of futility. Hours after Biden clinched the presidency by carrying his birth state of Pennsylvania, the Democratic challenger was leading President Trump in the Peach State by a margin of 7,248 votes.
But even if Biden ends up carrying Georgia, the 2020 election results leave Republicans poised to remain a strong force in a state that was reliably red for a generation.
Biden's successful bid for the White House helped Georgia Democrats force runoffs against incumbent Republicans in two U.S. Senate races and a third runoff for a seat on the state Public Service Commission. Democrats also retained a congressional seat in Atlanta's northern suburbs held by Republicans for decades until 2018 and flipped another suburban seat vacated by a GOP incumbent.
But Biden's coattails in Georgia weren't long enough for Democrats to make much headway in the General Assembly. While many state House and Senate races were close, Democrats scored a net gain of only two House seats and one seat in the Senate, far short of what they needed to take control of either chamber.
"Republicans actually had a very good day on Tuesday," Kerwin Swint, a political science professor at Kennesaw State University, said. "Republicans have to look at the overall picture and feel fairly good."
Swint said down-ballot Republican candidates in Georgia generally proved more popular than Trump because of the president's character shortcomings.
"The Republican Party's messaging policywise and platform was widely embraced by voters," Swint said. "It just didn't translate to the top of the ticket, most likely because of [Trump's] personal appeal, or lack thereof."
"Some share of Republican voters just couldn't vote for Donald Trump," added Charles Bullock, a political science professor at the University of Georgia. "Once they voted for Joe Biden, they voted for Republicans for Congress and the state legislature."
While the Biden-Trump contest lifted the Democrats' statewide ticket, 2020 was only the next step in a trend that has been building in Georgia. Democrats were outvoted in Georgia by 200,000 votes in 2016. Two years later, Democrat Stacey Abrams lost the governor's race to Republican Brian Kemp by 55,000 votes.
"Over two election cycles, the 200,000-vote margin Republicans have enjoyed has evaporated," Bullock said. "It's another step in what may be another realignment in Georgia to the Democratic Party."
That realignment has been coming during the last decade with demographic changes in the makeup of Georgia's electorate.
"This is a different state," Democrat Jon Ossoff told supporters Friday during his first post-election news conference after forcing Republican U.S. Sen. David Perdue into a Jan. 5 runoff. "Georgia has become younger and more diverse every day in the last decade.
"[With] the work that's been done over the last 10 years, work done by people like Stacey Abrams … we're now seeing change has come to Georgia."
A dramatic example of the demographic changes occurred in Georgia's 7th Congressional District, covering portions of Gwinnett and Forsyth counties, where Democrat Carolyn Bourdeaux narrowly won an open seat long in Republican hands. Based on the findings of one poll, Asian Americans voted 62% to 36% for Bourdeaux.
"The story of [the district] is a story about first-time Asian American and Pacific Islander voters and who is mobilizing them," Stephanie Cho, executive director of Asian Americans Advancing Justice-Atlanta, said. "Grassroots community-based organizing matters and it works. More and more AAPIs are excited to be part of the process. This is the future of Georgia."
The good news for Republicans is they continue to hold a narrow 8-6 advantage in Georgia's congressional delegation. Also, the underperformance of Democrats in legislative races leaves the GOP in charge of reapportionment and redistricting, the redrawing of congressional and legislative districts that takes place every 10 years following the U.S. Census to adjust for population shifts.
The General Assembly will hold a special session next summer to make those changes.
"They'll be in the driver's seat," Swint said. "They'll have an opportunity to draw things the way they would like to see them."
But Bullock said the demographic changes in Georgia that favor Democrats, particularly in Atlanta's northern suburbs, will limit what Republicans can do with new district maps. GOP leaders may decide to sacrifice some of their incumbents in Atlanta's inner suburbs in order to draw stronger Republican districts in the outer suburbs and exurban areas, he said.
"My assumption is they'll look around the north side of metro Atlanta and say, 'We can't save these folks,' " Bullock said. "Democrats may come out with some gains, even though they don't control redistricting."
Winter sparks worries of new COVID-19 wave in Georgia
Nearly eight months into the COVID-19 pandemic, Georgia officials and public-health experts are eying the upcoming winter season with caution amid a recent uptick in positive coronavirus cases and the dual impacts of the flu.
Cases of COVID-19, which had killed 8,156 people by Friday and sickened hundreds of thousands more in Georgia, have declined sharply since a peak in late July when the state averaged more than 3,500 cases per day, according to state Department of Public Health (DPH) data.
But cases have crept back up in recent weeks from a daily average of just under 1,200 cases on Oct. 1 to more than 1,700 cases as of Thursday. The DPH data also shows the state's case positivity rates and hospitalization counts have ticked up over the past few weeks.
Georgia's recent increases mirror a spiking trend of new COVID-19 cases across the U.S. that soared to more than 113,000 nationwide on Thursday – though Georgia's case rates have not risen so steeply as in many other states, said Jose Cordero, an epidemiology professor at the University of Georgia (UGA).
"Right now, we are in an upward trend," Cordero said. "When you have a virus like [COVID-19], you have it not in a single wave but in multiple waves. And that's exactly what we're seeing."
Georgia might even experience back-to-back waves of increasing COVID-19 infections if people abandon masks, social distancing and other safety precautions during the holiday season, said Isaac Fung, an associate professor of epidemiology at Georgia Southern University's Jiann-Ping Hsu College of Public Health.
With cold temperatures not yet present in Georgia, Fung traced the current creep in positive cases largely to people who have disregarded safety measures as the pandemic rolls on without a vaccine likely available until next year.
"If people continue to be relaxed about wearing face masks, we could potentially see a major increase after Thanksgiving and another wave after Christmas," Fung said. "It is certainly a very challenging circumstance for many individuals, especially older age groups."
At the same time, the rate of COVID-19 tests aimed at helping pinpoint where outbreaks occur has declined in Georgia recently, as noted in a White House task force report issued Nov. 1. Fewer tests make it tougher to gauge the true extent of the virus' reach in local communities, the report says.
That knowledge gap could heighten the risk of spreading coronavirus in gathering places like bars or indoor parties, particularly if family and friends sick of being socially separated throw caution to the wind for the Thanksgiving and Christmas holidays, said UGA's Cordero.
"If you have people that you don't know whether they're positive or not, you're going to have more [cases], especially with the asymptomatic spreaders," Cordero said.
State public-health officials and Gov. Brian Kemp have touted boosts in testing availability and turnaround times for several months, after tests were limited and sluggish during the pandemic's early days. Private labs and companies like CVS and Walmart joined the state to start offering tests in May.
But more recently, Georgians preoccupied with rebuilding their businesses, keeping their online-learning kids focused at home and just generally feeling fatigued by the stress and isolation of the pandemic have gone to get tested less often, said Nancy Nydam, a DPH spokeswoman.
"Testing for COVID-19 in Georgia has declined as it has nationally," Nydam said. "There is not one definitive reason for the decline. … [But] it is possible that as we get closer to Thanksgiving and the holidays, we again will see an uptick in demand for testing."
Alongside official testing, UGA Professor Erin Lipp and a student group have been analyzing COVID-19 levels at three Athens wastewater treatment plants since late May to gain a broader picture of the virus' presence in Athens-Clarke County, including among infected people who do not show symptoms.
A dashboard, which depicts the weekly amount of COVID-19 viruses that detach from feces in the county's sewerage system, has shown fluctuating levels of coronavirus in Athens since October, complicating the guesswork for how transmissions might trend in the coming winter months, Lipp said.
"We haven't seen a consistent trend in recent weeks pointing in one direction or another," Lipp said. "But we really need to be aware of the increased possibility of transmission in Athens, even if it's not happening right now."
With such uncertainty, Georgia officials and health experts are pushing to avoid simultaneous outbreaks of COVID-19 and influenza, which combined could hammer local hospitals where doctors and nurses have spent months treating coronavirus patients.
Already, Albany's hard-hit Phoebe Putney Memorial Hospital in South Georgia is bracing for "another significant and potentially dangerous stage" in the fight against COVID-19, although positive cases and hospitalizations of late have stayed steadily low, said hospital President and CEO Scott Steiner.
"This has been a record-setting week for new COVID-19 cases nationwide as the virus spreads rapidly in many areas where cold weather has arrived," Steiner said Friday. "Once cooler weather comes to Southwest Georgia, and we begin to spend more time indoors, the risk for virus transmission will rise."
Kemp's office said the governor and the state's public-health chief, Dr. Kathleen Toomey, have been checking in regularly with hospitals ahead of the winter season to prepare for any capacity issues resulting from a potential influx of COVID-19 and flu patients.
State emergency-management officials also have "an on-hand supply" of masks, hand sanitizer and other protective gear that "can be deployed at a moment's notice" in the event of an outbreak, said the governor's press secretary, Cody Hall.
"We continue to urge all Georgians to follow best practices and get their flu shot to prevent a 'twindemic' of COVID-19 and the flu," Hall said. "We're also still asking Georgians to do 'Four Things for Fall' to mitigate the spread of COVID-19: Wear a mask, wash your hands, watch your distance and follow the guidance of public-health officials."
Fung, of Georgia Southern, agrees those habits could help stave off a winter COVID-19 wave. He's been sheltering in his home since March, when the virus first fired across Georgia, and put bluntly the possible consequences for people who ignore distancing and masking practices this holiday season.
"They need to be aware that they may potentially infect their grandparents," Fung said. "If I was in that situation, I would feel very bad."
5fa6e15dd2457.image.jpg
Updated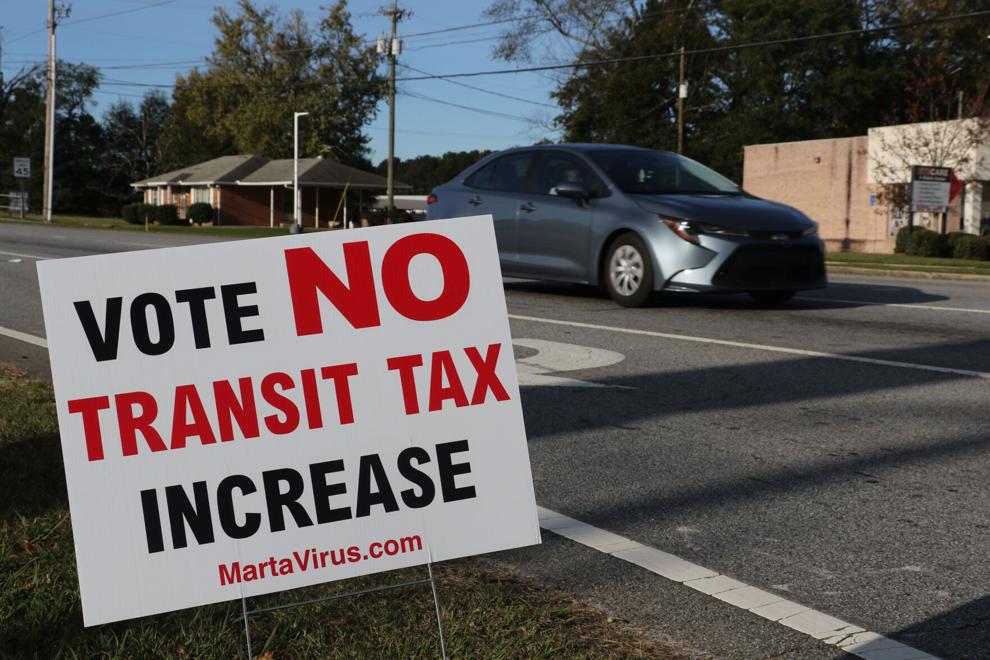 Tags