Francisca Clavijo's Tuesday began at 5 a.m., not terribly different from when the Berkmar High School cafeteria manager normally begins preparing breakfast for students. But instead of diving straight into her meal prep, she started checking emails.
It's March 2020, 10 days since the first confirmed case of the coronavirus (COVID-19) in Gwinnett County, and instructions tend to change by the day. Fortunately for Clavijo, Tuesday's instructions were the same as Monday's. The Berkmar cafeteria staff are used to putting food on the line on a typical school day, but at 6:30 a.m. they started stuffing hundreds of paper bags with sandwiches.
With schools closed in an attempt to impede community spread of the virus, school employees are bringing the meals to the students. Monday was the first day Clavijo, her colleagues, Berkmar administrators and support staff helped load eight buses with boxes of sack lunches to deliver to students. Clavijo said they are producing far fewer meals than they would on a typical school day. On Tuesday, there were 500 meals prepared at Berkmar, compared to 1,500 on a normal day.
In all, GCPS delivered more than 18,000 meals at bus stops and served 3,800 students at 68 different schools in the county. On Tuesday, the district reported a total of 25,111 meals served — 4,411 picked up from schools and 21,131 delivered on bus routes.
"When I read this email from the director, the number was really, really high," Clavijo said.
Clavijo feels like she's still able to do good for kids, even while they're learning from home.
District officials believe numbers will trend upward with school closures now guaranteed through March 31 and word starting to spread through communities.
Berkmar alone shared 161 meals at bus stops on Monday and served 112 in front of the school. All of the School Nutrition Staff at Berkmar reported to the school to prepare food and will continue to do so while schools are closed. Durrant Williams, Berkmar principal, said his entire administrative staff was out front on Monday to prepare for serving lunches. They scaled back on Tuesday.
Williams said he imagines even when he sends some of his staff home, they'll be tempted to come back to help students.
"We'll still be out here for however long it takes to get through this," Williams said. "It's an honor in so many ways to work for this district and support this cluster. To ensure that our kids still have lunch is an honorable thing."
The effort from transportation was substantial and comprised more than 500 buses. Routes delivered approximately 40 meals.
Driver Mohammed Zakania and his monitor, Nicole Foster, said they saw a larger turnout on Tuesday compared to Monday. They spoke to some apartment complex managers in the Berkmar cluster to help spread word that the buses would be stopping between 11 a.m. and noon with meals.
"It makes a difference," Zakania said. "Most of the kids rely on the school meal. This will make a very big impact on the kids."
Buford City Schools also mobilized buses to deliver meals on Tuesday. It was the first day of meal deliveries at six different sites in Buford's school district. Superintendent Robert Downs said when schools closed, one of the first issues the district tackled was food insecurity.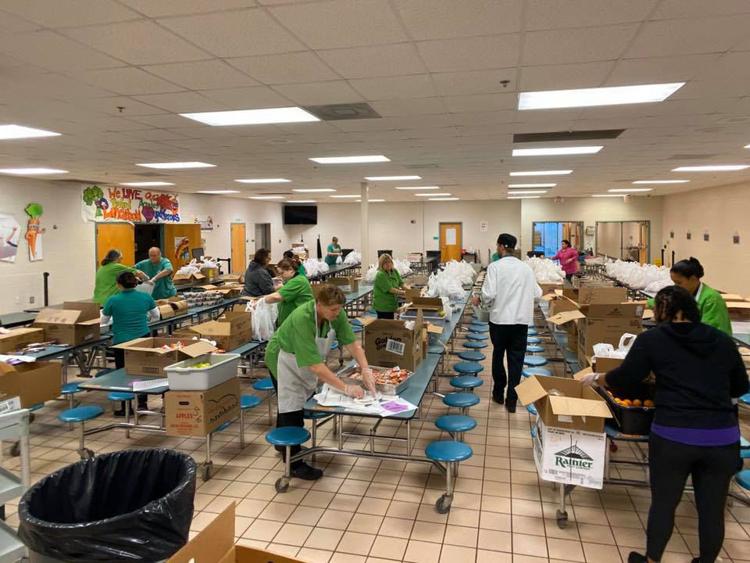 Director of School Nutrition Megan Gower collaborated with the transportation team at Buford and mobilized her staff with some help from school and district administrators.
"As soon as we realized we were eligible to feed students through this alternative method we began the process to get formal approval from the state Department of Education," Gower said. "Our main priority is to make sure our students are well fed at all times. It's amazing to see the nutrition and transportation employees come together with our community so quickly to ensure that our families are supported. We will do everything possible to make sure our students have the food they need during this difficult time."