Gwinnett County Public Schools and the city of Lawrenceville are showing their aligned prioritization of expanding arts opportunities in Gwinnett County with the announcement of Central Gwinnett High School's new arts academy curriculum.
The "school-within-a-school" experience at Central Gwinnett High School is expanding art education opportunities to its students in the 2020 school year.
Perhaps the most notable feature of Central Gwinnett's new arts academy and curriculum is the "Fine Arts Conservatory," which is not intended to be exclusive to Central Gwinnett students. The conservatory setting will present post-secondary, internship and work-based professional opportunities. The School of the Arts at Central Gwinnett High School will expand arts experiences for students throughout the Central Gwinnett Cluster (Jordan and Moore middle schools and Jenkins, Lawrenceville, Simonton and Winn Holt elementary schools).
The arts academy at Central Gwinnett will have an enhanced curriculum, designed by Central Gwinnett staff and Gwinnett County Public Schools' Fine Arts Director David Dubose. Its focus will be on three main areas of study:
♦ Performing Arts — Theater, Television and Film, Dance, and Music;
♦ Visual Arts — 2D-, 3D-, and Digital Art, and Fashion
♦ Technology for the Arts — Film and Broadcasting, Theater Technology; and
♦ Sound Recording, and MIDI technology.
"The city of Lawrenceville and the Aurora Theatre are leaders in the arts community and we are excited to partner with them to bring the School of the Arts to life," GCPS CEO and Superintendent J. Alvin Wilbanks said. "This will have a positive impact on the students at Central Gwinnett High School, other students in Gwinnett County, and the greater Gwinnett arts community."
Simultaniously, the city of Lawrenceville's development of the $31.1 million Performing Arts Center and the expansion of the Aurora Theatre could potentially potentially provide new spaces and program opportunities to Central Gwinnett students when they open in 2021.
Central Gwinnett's location and partnerships with Lawrenceville's performing arts spaces make it a logical choice for an enhanced performing arts program.
"Lawrenceville's vision calls for a diverse and substantial talent pool within a regional epicenter of community, and the investment in this School of the Arts will move us closer to that goal," Lawrenceville Mayor Judy Jordan Johnson said. "Good schools make good communities and we are excited about this opportunity at Central Gwinnett and grateful for the commitment of our City and Gwinnett County Public Schools to make it a reality."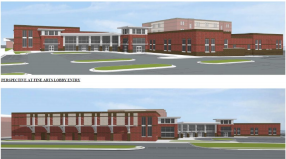 Central Gwinnett is one of several academy-based schools in GCPS. The school also has STEM; Law, Entrepreneurship and Public Services and Medical academies. The performing arts academies also encompasses communications and web design.
In 2019, the school announced construction for a new School of Performing Arts.
Including a traditional main theater, the school will add a new black box theater, two new visual arts classrooms, computer art lab, MIDI lab, a recording studio, expanded dance studio, and a new broadcast production room. There will be new spaces for band, orchestra and chorus.
In January, the Lawrenceville City Council approved plans for a new state-of-the-art center for performance that would include educational spaces. The city and Aurora Theatre held a joint ground-breaking ceremony last week for the 56,000-square-foot center.
It will stand on North Clayton Street across from the Gwinnett County Historic Courthouse and also serve as an expansion of the Aurora Theatre.