In the second full week of August in Georgia, there are few convincing reasons to go outside in the heat of the afternoon. For Lovin Elementary School students, though, there are about 15 minutes per day spent outside that provide something for them to look forward to.
In a collaboration between schools in the Archer cluster, Lovin Elementary schools students are responsible for caring for nine hens that are housed in a coop built by Archer High School engineering students.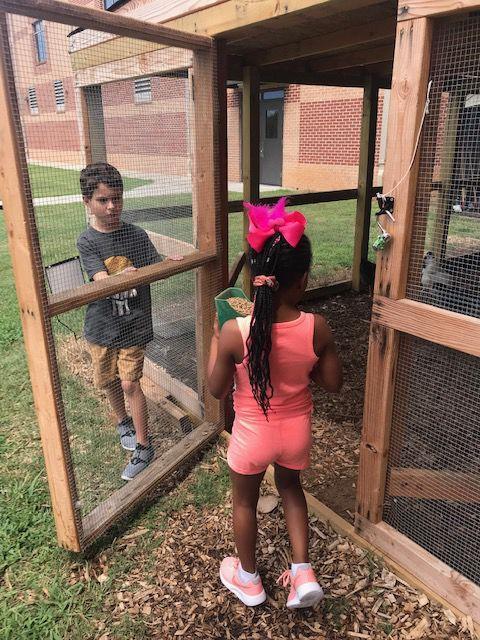 Gerin Hennebaul is the STEM — or STEAM at Lovin to also incorporate "arts" — content specialist at Lovin and has helped lead projects such as a garden or outdoor instrument "garden" that includes a xylophone designed and built by Lovin students. The idea for the chicken coop was born out of Archer cluster's "legacy projects," community service projects differentiated by grade level that include problem solving elements. The projects included a tower garden for first-graders that grows lettuce or learning tools like dominos for kindergarteners.
Second-grade students learn life cycles and can apply the lessons learned caring for chickens in the coop to the "flow of energy" in an ecosystem. Second-grade teacher Helen Diaz said a team of teachers observed a school in Oconee County in which second grade classes cared for chickens.
"It matches perfectly with our life cycles that we teach," Diaz said. "We thought second grade would be the best place."
It took research on the part of students and teachers to find out what it took to properly care for a coop full of hens. Lovin teachers and support staff, though, found a way to marry the planning and research to the grade-level science fair project.
"We didn't know anything about chickens," Hennebaul said. "We knew nothing. There was a lot of research."
Teachers researched with students how to get the most eggs out of chickens and how temperature changes affect the amount of eggs.
The design and construction of the coop was left to Archer High School engineering students. Elementary school students in Archer's cluster already attended STEM club at Archer, hosted in Eric Stoker's engineering class. Hennebaul presented the idea of Stoker's level-three students building a coop at the end of the 2019 school year that would house the Lovin chickens. Lovin second-graders worked with cubes and measured the area adjacent to the school and presented Stoker and his students with design ideas and measurements.
"I like my engineering kids to solve real world problems — not that this was a problem — but a solution," Stoker said. "I met with (Lovin) and took all the stuff back to my kids. I made them all come up with different designs. … It was the biggest chicken coop I've built in my life."
In total, it took Archer engineers about a month to plan and test designs in the 3D software. Hennebaul received a discount from The Home Depot in Bethlehem and new Lovin principal Kevin Payne helped with the funding of the project.
For about a week in May, Archer engineering students built the coop and Lovin students observed the project as it unfolded. Lovin teachers also worked with business partners Tractor Supply, Buck Jones Nursery and Ace Hardware for supplies.
Hennebaul has taken to affectionately calling it a chicken castle. It's large enough to hold 100 chickens, but the extra space provides the nine hens room, since they can't be free-range in the middle of an elementary school playground.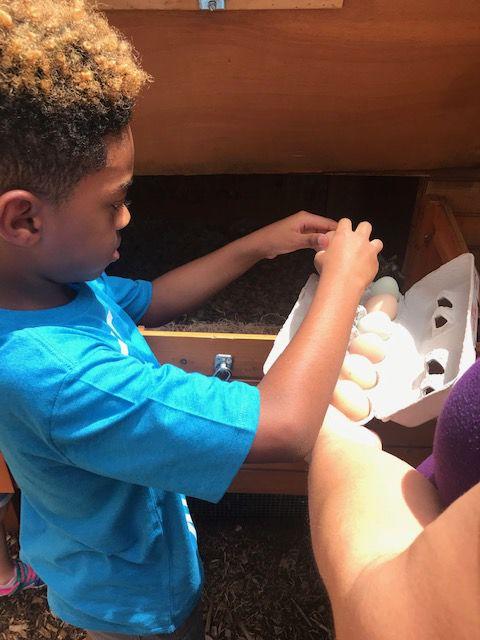 Parents of Lovin Elementary students took turns feeding chickens and collecting eggs by rotating one week at a time during the summer months. Families either kept or donated the eggs they collected.
Not all Lovin students plunge fearlessly into the coop — the chickens are known to peck — but most of them find some satisfaction in collecting the brown and blue eggs. As part of a larger project to eliminate food waste, students also collect salad from the teacher's salad bar in the cafeteria in a paint bucket and feed it to the chickens.
"Most are very excited," Diaz said. "I think they just don't have experience, but a lot of those kids will hold the door. All of them are excited about checking for eggs."
There are more coops planned for Harbins and Cooper elementary schools and a compost bin for food waste at Lovin.
The Archer cluster doesn't necessarily belong to one community. Parts of the student body come from Dacula and Lawrenceville or near Grayson, Bethlehem and Snellville. There's no town the whole cluster can call its home. Archer principal Ken Johnson said vertically integrated projects, though, provide an opportunity for the cluster to form a sense of community.
"It helps the cluster because we don't have a town, necessarily," Johnson said. "Just like when our peer leaders come to elementary schools, football players come out and read — this is another opportunity for the bigger kids to work with little kids, and it's a project that has some longitudinal nature to it and it's meaningful."