Katie Bowman had just turned 30. When her mind strayed to worst-case scenarios, she kept reminding herself that 30-year-old women don't get breast cancer.
A little more than a week before the Buford resident was diagnosed with breast cancer, she tried to convince herself she was experiencing something much less serious. At a routine checkup with her OB/GYN, Bowman wasted no time scheduling the follow-ups that probably saved her life.
There were about eight days between Bowman's mammogram and biopsy, a time when she was still hopeful the worst-case scenario was a long shot and the exams were nothing more than precautionary.
"The whole time I'm like, 'I'm 30, I'm 30, I'm 30. This cannot be breast cancer. I don't have anything running in my family, and I just turned 30 and I'm healthy,'" Bowman said.
The tone her radiologist took and the seriousness of the tests gave her a woeful feeling before she was diagnosed with Stage 2 breast cancer. No matter how much she tried to convince herself she would be OK, her instincts told her to expect the worst.
Bowman received that life-changing call in October 2018 and was shocked. She said she was freaked out, even more, to find out cancer had spread to her lymph nodes. Fortunately, her tumors were still small and only two of her 10 lymph nodes tested positive for cancerous cells.
"I just thank God I didn't waste any time and say, 'I'm 30, it's nothing and kind of put it off,'" Bowman said.
What happened to Bowman was genetic. Though it wasn't in her mind before she had seen a diagnosis, Bowman's father, Greg Rinehart, died of colorectal cancer at 56 years old in 2008. Genetic tests revealed Katie Bowman had a rare mutation on her BRCA1 gene, one of two genes with tumor suppressant functions that producing proteins that repair damaged DNA. BRCA mutations also manifest themselves with colon cancer. Bowman suspects her father's illness was linked to a similar mutation, which she inherited.
The mutation has been linked to breast cancer and ovarian cancer in women but has only been linked to colon cancer in men in the years since Bowman's father's death. Bowman said she had lost her faith in doctors after the oncologists who treated her father discovered his cancer too late. Her experiences with Northside Hospital Gwinnett — formerly Gwinnett Medical Center — with Medical Director of the Breast Program at Northside Hospital Gwinnett Kevin Peacock and General Surgeon Stephen Quill started to restore her faith.
"With young people, we often think, could there be a genetic aspect?" Peacock said. "When she was diagnosed with having that BRCA mutation, the surgical recommendation was for her to have a bi-lateral mastectomy."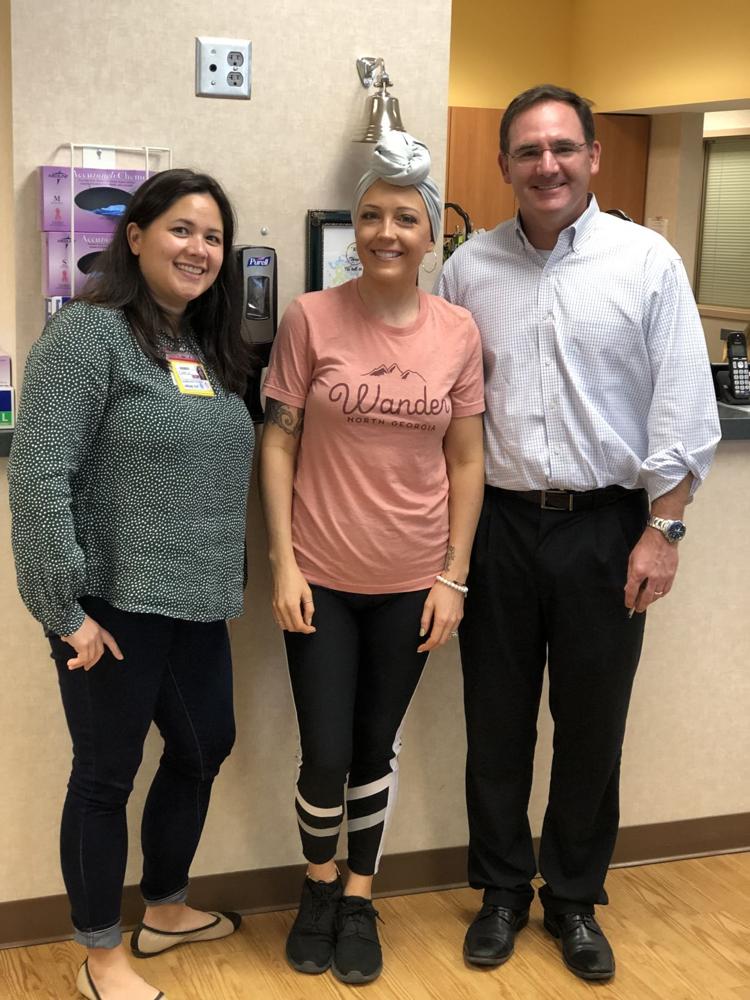 Bowman felt she could trust her oncologist and surgeon while she said other doctors seemed to dismiss the possibility of a cancer diagnosis at such a young gage. She said when she found out she was positive for breast cancer, a double mastectomy was a no-brainer, although some of her friends and family members characterized her decision as hasty. She felt support from her doctors at Northside Gwinnett before she even tested positive for a BRCA mutation.
"Let me just eliminate this threat so I can go on living my life," she said at the time.
Her father-in-law, Mike Bowman, said he made arrangements to come to Atlanta from Leyland, N.C., and work remotely for two weeks every month during Katie's treatment. He was there for her first surgery and periodically during treatment to help transport his grandchildren Jeffrey, 8, and Weston, 4, to school and daycare from an RV he stationed in Cleveland, Georgia.
"Our family has always been a close family and we pretty much circle the wagons as soon as someone has a need," Mike Bowman said.
After surgery in late October, Katie underwent chemotherapy in December. She started by receiving bi-weekly medicine intravenously that had to be dosed over several minutes. The compound harmed her immune system and required periodic white blood cell injections in the hours after treatment. She described her treatments as "intense" but said her kids kept pushing her to stay positive.
"They were watching and I didn't want them to see — I just wanted them to know you can do anything you set your mind to," Katie said.
Mike sometimes drove Katie to or from treatment and tried to keep her spirits up on her worst days by reminding her of a mantra the had developed over text and emails.
"She and I had a saying, 'You're better than you think you are, you're stronger than you think you are, you're braver than you think you are,'" Mike Bowman said.
Bowman said the support of her community and family helped pull her through on her worst days. Bowman is a team mom for her son Jeffrey's baseball and football teams. Jeffrey's baseball team showed its support by wearing pink jerseys that said "Kick it with KB."
His Buford football team wore pink jerseys and made her honorary team captain and call the coin toss for a game. Family friends helped set up a meal train that covered her family every Monday and Tuesday for about six months during her treatment.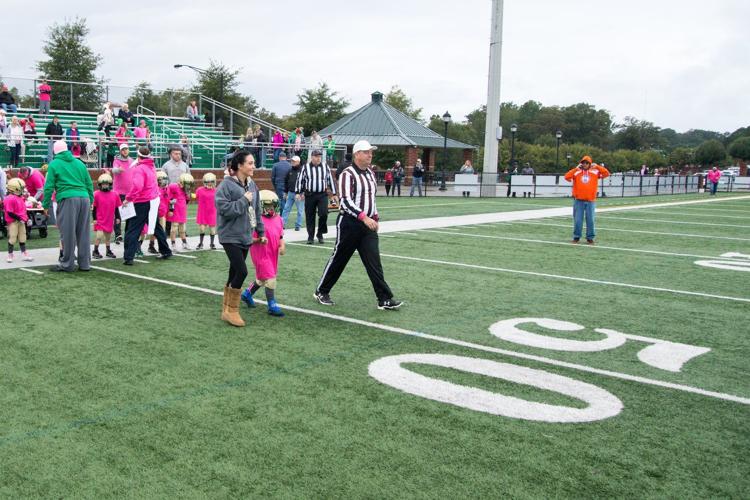 Katie said her husband, two kids and three stepchildren helped shave her head and her oldest son and stepson buzzed their head with her in solidarity.
"It was empowering because I was in control of taking my hair, not cancer," she said.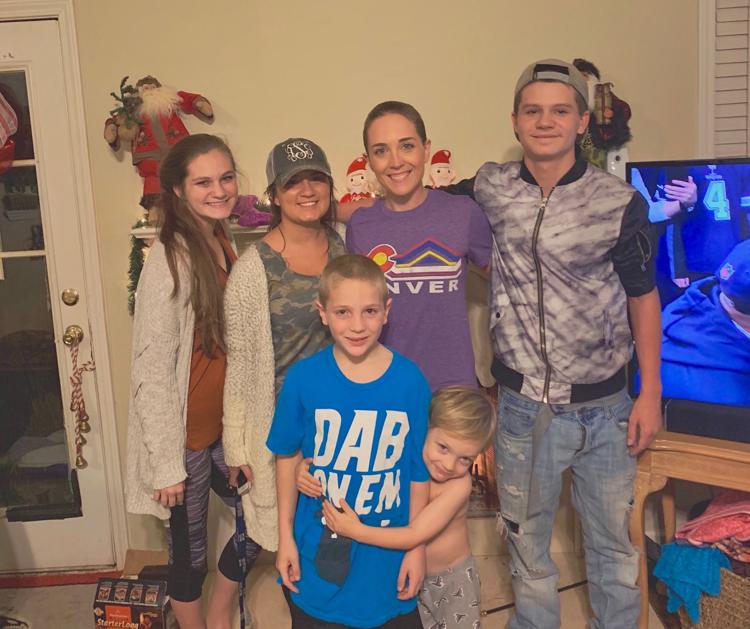 Katie said before her cancer treatment she believed her mind could help her body conquer severe exhaustion and sickness. She said that belief is confirmed for her now in the months after chemotherapy. Bowman finished her last treatment in March. One year since her diagnosis, Katie said has three to four surgeries ahead of her as she begins the reconstruction process.
Katie said the experience during treatment restored her faith in doctors. She encourages other women to take steps beyond routine physicals and OB/GYN check-ups. Cancer often won't reveal itself with routine tests, so that leaves oneself as the first line of defense.
"Just listen to your body and be your own advocate with your doctors," Bowman said.