When Stephanie Bennett first approached Indio Brewing Co. owner Jonathan Martinez about hosting a fundraiser to support the family of Gwinnett County Police Department Cpl. Mike Warnke, who died last month, Martinez almost immediately said yes.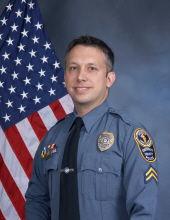 "Why would I say no?" Martinez said. "It was a no-brainer. I had to ask the city (of Sugar Hill) ... but we (made it) happen."
The event happened in a big way on Saturday, with dozens turning out to the Sugar Hill brewery for barbecue plates, beer and raffles, the proceeds of which will go to Warnke's wife, Whitney, and 7-month-old son, James.
Organized by Facebook group Gwinnett Backs The Blue with help from Bennett, — the group, which was started by local resident Matt Knight in 2016, is a pro-law enforcement page that has recently hosted several other events for local fallen officers — the event was intended to show support for Whitney Warnke and her husband's family.
"(Warnke) has a small baby, and we feel, as a family — a blue family — that we need to help take care of him and (Whitney)," Bennett said. "This (event) also kind of helps bridge the gap between law enforcement and the community. It's really important for everyone to get involved in this."
Warnke, who was 37, died in his sleep on July 19. A corporal assigned to the Gwinnett County Police Department South Precinct night watch, his death came as a tragic surprise to the Gwinnett community and his family.
"He was probably one of the funniest people you'd ever meet," Whitney Warnke said. "He loved anything outdoors; he was into surfing and loved shooting guns and we recently had our baby, so he was really into being a dad and spending time with us. We were figuring out this new era of life that we had just started and were looking towards the future and being parents."
Though that future together was taken away too soon, Whitney Warnke said Saturday's event meant a lot to her and her family.
"I actually just started seeing posts up on Facebook about (the event), and I wasn't really sure at first what was going on," Whitney Warnke said. "My family looked into it, and it's amazing that the community would do this for us. I was shocked and overwhelmed in that everybody's been so nice. It's been great to see all the support."
Whitney Warnke added the support is key right now, given her son is still so young.
"It's amazing to see that everyone actually cares," she said. "There's no way, with a baby that's seven months old, to do it by yourself. To know that I've got complete strangers who just want to make a meal or come and cut my grass is unbelievable. There's so much kindness and support."