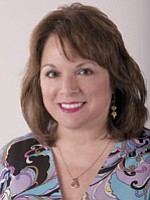 One of Arthur Miller's finest plays will be presented by New London Theatre through Nov. 17. "Death of a Salesman" will be offered to patrons as an example of the finest writing that American theater can offer.
The performances will be held in New London Theatre's stage located in "New London Plaza," a part of Hello Again Variety Mall at 2338 Henry Clower Blvd. in Snellville. Performances began Nov. 1 and will continue at 8 p.m. Fridays and Saturdays and 2:30 p.m. Sundays.
Tickets are $12 in advance and $15 the day of the shows. Children and students ages 3 to 19 are always $10 as are seniors age 55-plus. Tickets can be purchased online through the New London website at www.newlondontheatre.org or at the theater box office.
"'Death of a Salesman' is considered by many to be a classic as it is one of the best examples of American drama on the stage," said New London spokesperson John Berlo. "Thousands of school children read the play every year. Even though the story takes place in the 1940s, everyone can find some part of the show to relate to, as it is, in essence, the story of a man and his family and the desire for each to obtain approval from the others."
The story revolves around the character of Willy Loman, a failing salesman who cannot understand why success and happiness is passing him by. Through a series of tragic, soul-searching revelations about the life he has lived, we discover how his quest for the American Dream kept him blind to the reality of those surrounding him who truly loved him.
"This is a thrilling work of deep and revealing beauty that remains one of the most profound classic dramas of the American theater," Berlo said.
Performing the role of Loman is Brian Jones, who has been acting, directing and writing for New London since its first season. He was recently seen in "Cabaret" as Herr Schultz, in "Rocky Horror Show" as Dr. Scott and in "Second Samuel" as Mansel Dean. He directed last season's "Wait Until Dark."
Willie's wife, Linda Loman, is portrayed by Shannon V. Alexander, who is a local attorney. This is Alexander's return to the stage after a 20-year absence and it is her first role with New London.
Another prominent role of Biff Loman, Willie's son, is played by Drew Rankin, who was also in New London's "Romeo and Juliet" and "Cabaret."
Season tickets for New London's exciting season are on sale. Upcoming shows such as a modern adaptation of "A Christmas Carol" and the emotionally powerful, award-winning play "Wit" are on the horizon.
To review the upcoming season and find information about auditions and volunteering, visit www.newlondontheatre.org or all 770-559-1484.
Holley Calmes is a freelance writer and public relations consultant specializing in the arts. Email her at hcalmes@mindspring.com.