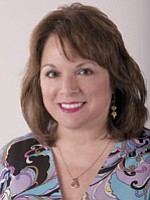 Art camps at the Hudgens Center have been the highlight of many young artists' summer fun for many years, and this summer is no exception. Four "Color Wheel" camps and three "Summer Pottery Camps" are being offered in June and July.
Angela Nichols, director of public programs and education at the Hudgens, noticed that many students were "aging out" of their existing summer art programming and decided to rethink the schedule.
"So many of our students were saddened when they 'aged out' and became too old forour summer art camps, that we added the new pottery camps for older kidslast summer," she said. "These were so popular that we added a third pottery camp then, and brought them back for three weeks this July as well. Some of our campers love being here each summer so much, that when they get to be too old to come as a camper, they come back -- year after year -- as camp assistants."
The camps are so popular that end-of-camp evaluation forms look more like Valentines than evaluations. Comments such as "beyond what we could have asked for" and "our kids asked when they could do it again" roll into the Hudgens offices after each session.
For this summer's fun with the visual arts, the Hudgens has divided content into the two camps mentioned above. "Color Wheel" is for young artists ages 5 through 12. "Summer Pottery Camp" is for ages 8 through 14.
"Color Wheel's" four sessions are June 3-7, June 10-14, June 17-21 and June 24-28. The cost is $200 per session or $175 for Family Level Hudgens Center members. To maximize instruction so that each student receives the best arts education, the classes are limited to 45 students, which makes early registration a very desirable thing to do.
"Color Wheel" meets from 10 a.m. through 2:30 p.m. Monday through Friday. Campers rotate through three classes each day, going from drawing and painting to clay and mixed media. There is a high emphasis on technique and craftsmanship. Each session will conclude with a mini exhibition of works created.
"Summer Pottery Camp" has three sessions from July 8-12, July 15-19 and July 22-26. Cost is $275 per session or $250 for Family Level members. This price does include clay, firing and glazing. These camps are limited to 14 students per session, so early enrollment is encouraged.
The pottery camps are all about clay. Students will learn pottery wheel techniques and create their own functional and sculptural forms. They will also spend time learning handbuilding and how to finish and glaze their pieces.
Class and camp descriptions and registration forms are available online at www.thehudgens.org.
Families should also remember that there is a free family day coming up on April 27 at the Hudgens Center, a time when the family can enjoy the arts together. The Hudgens Center also has three new fiber exhibitions on display.
For more information about the camps, visit the website or call 770-623-6002.
Holley Calmes is a freelance writer and public relations consultant specializing in the arts. Email her at hcalmes@mindspring.com.