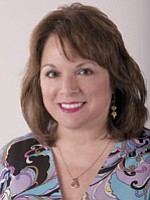 One of Gwinnett's newest performing arts organizations will explore the concepts found within Greek Mythology as an opening concert theme. On Oct. 13 and 14, Zephyr Instrumental will perform "Elements" at the new Sylvia Beard Theatre at the Buford Community Center. This concert is the first of six concerts planned throughout the year in Zephyr's "Master Concert Series."
The October concert will be held at 8 p.m. Oct. 13 and the Oct. 14 event is at 4 p.m. Tickets start at $10 and can be purchased through the Buford Community Center Box Office.
Zephyr founder and director Kerry Fetter, along with Director of Composition and Arranging Rick Bragg, have created a music group that offers a "new" style of music.
"Around 15 years ago, I had the desire to start a 'new' style of music based in the traditions of classical, but exploring the genres of new age and jazz," Fetter said.
Fetter organized Zephyr Instrumental four years ago, using the talents of the Zephyr Brass Choir, Zephry Winds and a few other musician friends.
The group is what Fetter describes as a "21st Century Concept Orchestra."
"What is that you say? It is a unique blend of instrumentation from several genres of music," Fetter said.
Instruments include a piano, two synthesizers, flute, clarinet, oboe and two each of trumpets, French horns, Euphonium and trombone. There is also a tuba, all kinds of guitars and a full orchestra percussion section.
"Merging the sounds of these instruments is what creates the unique sound of Zephyr Instrumental, powerful rhythms and melodies.
"We've recently added 'pans,' which are a shorter version of full steel drums. This is part of our plan to add many different international instruments to our compositions. Again, the music is unique, but we know it is the style of music many have been listening for ... melody, melody, melody."
This first Master Season begins with the "Elements" concert featuring the "Elements Suite." The concert marks the first time the entire suite has been performed for an audience. It includes videography and video art to be projected during the performance.
Additional concerts include "Zephyr Planet Christmas" on Dec. 15 and 16, "America ... the Music" on Feb. 16 and 17, "Journeys on Planet Zephyr" on March 9 and 10, "Zephyr Instrumental ... the Classical Side" from May 3 through 5, and "Imagine!" on June 1 and 2. All will be held at the Sylvia Beard Theatre at the Buford Community Center.
Fetter has a dream that Zephyr Instrumental will be recognized beyond the Gwinnett and Metro Atlanta area.
"There is great joy and peace after every rehearsal and performance," Fetter said. "I want Zephyr Instrumental to go beyond even my expectations ... .I know that will happen."
For more information about Zephyr Instrumental, visit www.zephyrplanet.com or call 770-447-8137.
Holley Calmes is a freelance writer and public relations consultant specializing in the arts. Email her at hcalmes@mindspring.com.