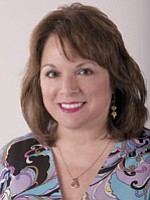 Don't have time to take an eight-week art class, but still eager to put those creative brain cells to work? The Hudgens Center has a collection of workshops that will only take one day of your life, but can give your artistic side a boost. In addition, you can get a start on holiday shopping by creating special gifts for special people in your life.
The nine workshops begin Saturday and run through Nov. 4. The subjects for the classes range from clay to children's creative drawing to jewelry, soap and toiletry making, glass and more. All workshops are scheduled for either Saturday or Sunday, making the commitment easier for busy artists-in-training.
"We've also got some new workshops still being developed for later in October and November, such as an opportunity for children to create unique and beautiful holiday gifts, that will be advertised on our website as well as in our e-newsletter," Hudgens Center spokesperson Kelly Haggard Olson said.
These workshops are proof that anyone can create something beautiful in just one day's time. Take for example the "Sgraffito Workshop" from 2 to 4 p.m. on Sept. 23. Sgraffito is a clay process where clay of one color (in this case white porcelain) will be covered with a darker slip in either brown or black, and then carved through to reveal the white clay beneath. Participants will carve a 7"x13" oval with their choice of images and the center will fire the plate later.
"This class is fun and exciting as you'll learn the simple techniques to carve striking, beautiful designs in your clay," Haggard Olson said.
Two workshops are perfect for those who want to banish chemicals and artificial fragrances to concentrate on natural ingredients in their soaps, lotions, balms and creams. "Cold Process All Natural Soap Making" will also be held from 1 to 4 p.m. Sept. 23, and "All Natural Hand Lotions and Toiletries Making Workshop" will happen the next week from 1 to 4 p.m. Sept. 30."Nature in Glass" from 11 a.m. to 2 p.m. on Oct. 20 allows students to make a unique piece of art from leaves and flowers which will be permanently encased in fused glass.
Haggard-Olson is especially enthusiastic about "Introduction to Precious Metal Silver Clay" on Nov. 3 from 10 a.m. to 3 p.m. "This is a fantastic class," she said.
"You learn how very simple it is to make real silver jewelry from this easy-to-use clay," she said. "You will walk out with at least two finished silver pieces."
A follow-up class to this one will be held the next day from 10 a.m. to 3 p.m. Nov. 4. Titled "Advanced Precious Metal Silver Clay," the class will teach several different finishing processes to make even more extraordinary jewelry.Haggard-Olson encourages anyone interested in these and other art courses to sign up for the Center's email newsletter.
"We have great opportunities at the Hudgens Center for exhibits, classes, workshops and events," she said. "Sign up for the e-newsletter on our homepage at www.thehudgens.org."
Holley Calmes is a freelance writer and public relations consultant specializing in the arts. Email her at hcalmes@mindspring.com.