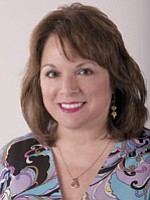 Mikki Dillon has been curator of the work of many fellow artists at the St. Edwards Gallery for several years, and now it is her turn to display an entire exhibition of her own. "Forays into Photography" consists of 26 pieces, depicting scenes from Italy, Japan and from South Carolina to New Mexico.
The gallery at St. Edwards is located in St. Edwards Episcopalian Church at 737 Moon Road in Lawrenceville. The exhibition is free and open to the public. Hours are 10 a.m. to 4 p.m. Mondays through Fridays and 8 a.m. to noon on Sundays. It is closed on Saturdays. The exhibition will be up through June 2.
Dillon has exhibited her photography locally at Kudzu Art Zone in Norcross and at ART Station in Stone Mountain. Although she is also well-known for her work with pastels, her photography is winning awards. One of her large prints won second place for photography in the recent National League of American Pen Women. She is a member of the Southeastern Photographic Society and the Atlanta Artists' Center Photo Salon.
"I have been seriously working on my photography for the past 3 and a half years," Dillon said. "Before that, I was shooting for three reasons: information for detail in my plein air painting, keeping memories of places I had been and just because something caught my imagination.
"I love both landscapes and 'grab shots,'" Dillon said. "Grab shots are simply a quick photo, unposed, taken of people I see in my travels."
One of her favorite shots in this exhibition is a grab shot.
"I took it outside St. Peter's in Vatican City, Rome. It's a grab shot of several nuns of different orders, judging by the different habits they were wearing. One very tall nun had a large bottle in her hand by her side. It wasn't until I got home and downloaded the shots that I noticed the bottle was a great big bottle of Coca-Cola. How appropriate for someone from Atlanta to have taken this picture."
Another one of her favorites is the photo titled "Cool."
"This was taken of one of a group of teenagers we saw swimming below the dam on Vickery Creek in Roswell. There was a great big 'No Swimming' sign right there, but it was hot and they had the right idea.
"'Coming into my Den' was taken at Perry's Water Garden, in North Carolina last August," Dillon said. "I was having a ball shooting the beautiful lotus and leaves. I took three shots and didn't realize until I got home and downloaded the shots that there was a spider peeping out of a curled leaf on the water surface. He wasn't in the first two shots, so he must have noticed the activity and come out to see what was going on."
The prints in this exhibition are both color and black and white digital prints. Dillon does her own post-processing using Photoshop Elements 8, Lightroom 3 and HDR Pro plug-in.
"There is a whole world of work I could do with Photoshop if I can ever get it into my brain," Dillon said.
For more information about Mikki Dillon and her artwork, visit her Facebook page at www.facebook.com/people/Mikki-Dillon/1488177210.
Holley Calmes is a freelance writer and public relations consultant specializing in the arts. Email her at hcalmes@mindspring.com.