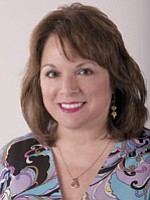 When Adrian Green finishes the mural he is painting on the walls of Bigg Headz, this "barbershop deluxe" will have yet another reason for customers to linger beyond their haircut or beauty treatment. Green, a Gwinnett resident, is covering the walls with accurate and amazing depictions of famous rap artists who now overlook the pool table and flat screen television area.
Bigg Headz, located at 1685 Old Norcross Road, has a vibe that attracts energy and creativity. Owners Mike Miller and Jamel Jackson contribute frequently to the surrounding community, so it is no wonder that visual artist Green was inspired to get busy on the walls not already covered by colorful posters.
"My barber, Jeremy Bailey, was cutting my hair, and my spirit told me to do something here, donate something," Green says.
Green has always been inspired by heroes, comic books and individuals who can be role models for youth. Not only is Green a superb artist, he is also a DeKalb County Fire and Rescue professional, continuing to live a life of service to others through helping them in times of crisis. However, it is his art that is his true calling.
Born in Boston, Green attended the Massachusetts College of Art followed by a stint in the Marines. In 1991, he arrived in Atlanta where he attended the Art Institute of Atlanta, graduating in 1994.
One of his teachers, a famous graphic designer, gave Green good advice during a viewing of his work. The designer told him, "You are a terrible designer, but you are an awesome artist, and your work needs to be seen."
"That thought stuck in my head," Green says. After working with interior designers in personal home decor, he began creating murals in a variety of public buildings in 1995. His first mural was for Centennial High School, a project so successful that he sent out emails to schools in Gwinnett offering his services. He has since created murals for high schools including Duluth, Peachtree Ridge and Mill Creek. His last project was for Hull Middle School, where he created collages based around academic themes, such as science and social studies, to inspire the students.
After the Bigg Headz project, Green will launch into a huge lighthouse mural for Windy Hill Baptist Church.
"I just want to leave an imprint on people's minds," Green says. His aspirations include leaving the fire department for a career totally devoted to art. "I have greeting card ideas, logos, business card ideas. And I would love to paint more murals."
With wife Stephanie and two daughters ages 8 and 10, Green hopes to see Gwinnett's arts scene blossom. Inspired by the ArtWorks! Gwinnett meeting on Sept. 19, Green says, "I think ArtWorks! Gwinnett will open up a whole new art world for Gwinnett. Everybody has been doing their own thing. Now we have a way to be a community. I love Gwinnett. Anything positive for Gwinnett is a plus."
To learn more about Green or to contact him, visit his web site at www.artworkbyadrian.com. To learn more about Bigg Headz, visit www.biggheadz.com.
Holley Calmes is a freelance writer and public relations consultant specializing in the arts. Email her at hcalmes@mindspring.com.